The WD-70 Extravaganza Cruise departed at 8:00 am from Shennecossett under blue skies and on calm waters. A good start!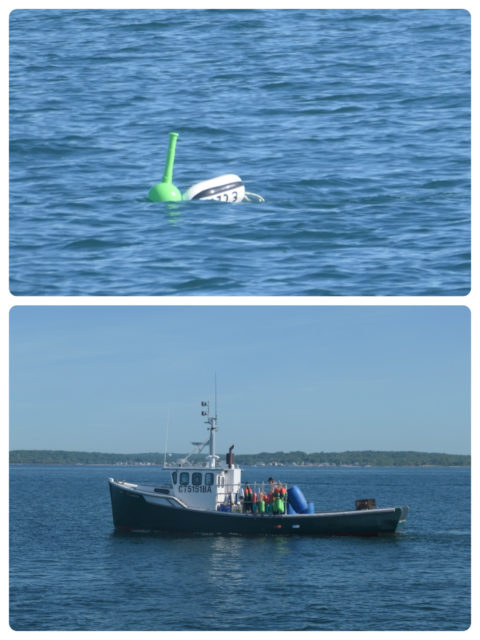 What a delight it was to enter Salt Pond and see NO CROWDS!!!!! We haven't been to Block Island since 2019 and that was only a quick overnight stop. Honestly, Block does not have the same appeal for me that it once had. It is too crowded both on land and in the harbor with too many idiots and clowns.  The town has added more and more private moorings so the anchorage area has been reduced significantly. It's sad because it is a beautiful gem.
Because of the weather forecast for rains and high winds over the next 3 days we chose a town mooring to raft on. We had a lot of choices. This is so rare.
After settling on the mooring and lunch, we took advantage of the nice weather to take Don and Cindy on a brief harbor tour and for a walk on the beach. 
The skies were clouding over and we suspected this could be our only opportunity to see the beach and the ocean here. We had an enjoyable walk on the beach, surrounded by the simple pleasures of nature and friendship.
Oh, by the way, this is not the same Limerick that visited us last summer. Same people, Don and Cindy, but a new boat that they bought in Maine during their visit with us.  Limerick has grown from 39 feet to 44 feet. What a beauty she is!
Our expectations were held in check due to the weather forecast for the next day and were prepared for a so-so day. Ahh, fickle Mother Nature sometimes throws a good surprise! By late morning, the she gave us a gift of spectacular weather.
We WILL get some beach time on Block Island!
It was a beautiful afternoon. Still too chilly and too much surf for me to go into the water but lovely just the same.
More weather decisions to make. Don and Cindy's wedding anniversary was the next day, but rain and high winds were predicted so wise boaters adjust accordingly. Celebrating their wonderful achievement of 49 happy years together (one day early), we had a delicious dinner at Dead Eye Dick's.
By Thursday afternoon the weather cleared although the winds remained strong. Friday was clear and beautiful. We decided to visit the town side of Block.
It was a perfect day for a stroll, sunny but breezy and not hot, just comfortable. A walk for exercise and an exploration to see what's new and what's still the familiar.
We planned on lunch at Finn's but discovered it was not open although the website was still up. A little googling informed me that the building was sold in July 2021 for $2,000,000. I guess someone has new plans for it??
We continued down the road and ended up at Ballards, a place I generally avoid, but it was a pleasant surprise this time.
A short walk up Spring Street past the Manisses Hotel and near the 1661 Inn is North Light Fibers, so I made a request to go there. I enjoyed our visit there so much a few years ago. (Note: I was certain there had been a blog post on this fiber mill and farm but I sure can't find it now.) North Light Fibers is a micro yarn mill where they produce handcrafted artisanal yarns made 100% on Block Island. We toured the mill last time. This time I resisted the urge to purchase more yarns because I am currently on a yarn diet.
We could not leave town without ICE CREAM! Wasn't that a promise in the WD-70 brochure?
All four of us thoroughly enjoyed our stay at Block. I have a newfound, or refound, appreciation for the island. June is definitely the time to visit this gem.