The History of Al's Boats
This is for the benefit of our grandchildren. Note to our children – if you really want to remember family history in order to pass it along to future generations, write it down while you are young!! This blog will now become the memory bank for future generations of Watsons, Kesslers, and Markeys.
The saltwater in Al's veins are a natural result of his nautical genes. His parents spent many years boating in the New England waters and in Florida, both sail and power.
A walk down memory lane, decade by decade, a tale of 20 boats (not including the assortment of dinghies and kayaks) ………….
1960's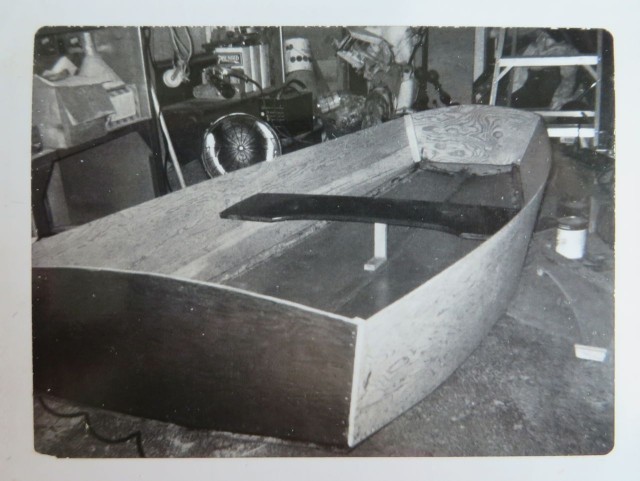 This is the earliest known photo of an "Al" boat. Al was about 12-13 years old when he made this little wooden dinghy with his father, Charlie. He learned everything he knows from his dad, who was also bringing home boats and fixing them up.
Al tackled this 18 ft Lyman when he was 16 years old. He found it in a Branford boatyard and paid very little for it. To salvage the boat and make it usable, he cut the transom off in his backyard, reducing its length to 14 feet. Once finished with his salvage work, Al kept the Lyman on the Milford River. To get to it's mooring, he used a plastic toy boat to paddle out to his boat. Where there is a will there is a way………….. After about a year, the lapstreak planks started popping because Al had bent them in too far for the new transom. We learn from our mistakes! When the boat started leaking, he started thinking about his next boat, hopefully fiberglass this time.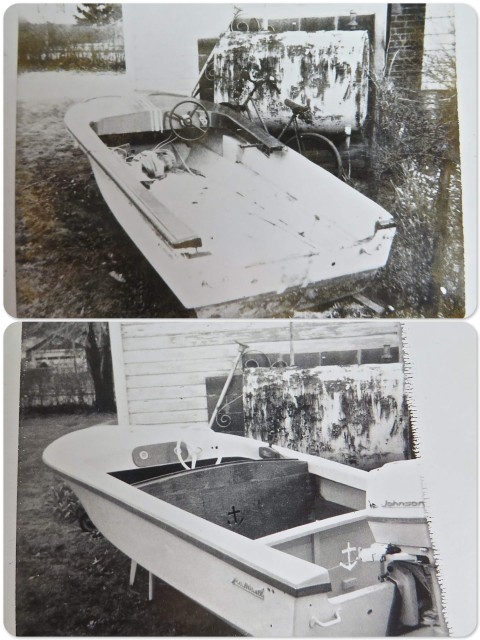 Al found this fiberglass fixer-upper upside down on the West Haven Beach. He tracked down the owner who then gave Al the boat if he wanted to fix it up. Those are magic words to Al. He set to work on this 14 footer and removed the engine from the Lyman (the leaking Lyman) and put it on the fiberglass boat on the Milford boat ramp. When he came back the next day only to discover that someone had stolen the Lyman. Is Al too trusting???? But there is a moral to the story — Little did the thief know that the Lyman leaked quite badly. Al used this boat for a couple of years in Milford and West Haven.
1970s
There are no pictures of these two boats —
There was once a little red steel sailboat, about 12 feet long. Al put it on a mooring on the lake in Coventry where he was living then. After using it a couple of times, it began leaking and sank to the bottom, where it remains for people to snorkel over. ( Seriously, Al?? People snorkel over boat wrecks in Coventry just like in the Carribbean??? Lake water must have been quite clear back in those days. He really thinks I am gullible!)
In the meantime, Al started building a 16-ft houseboat-style "boat" in his backyard in Coventry. That experience did not work out too well for him because it was flipped on its side and consequently used as a shed. Guess he needed storage more than a houseboat.
And then came the first sailboat —
Al bought the molded plywood 17 foot Thistle while living in Wallingford, pre-children (couldn't afford another fiberglass boat at that time.) The Thistle is a high performance one-design racing dinghy, also used for day-sailing, designed by Gordon K. (Sandy) Douglass. Thistle hulls have wide, rounded bottoms, allowing the boats to plane in winds as low as 10 knots.
While searching the boat ads in the Bargain News, Al saw an ad for this Thistle by a widow whose husband had died four years earlier. The boat was in the basement, accumulating dust, but in good enough shape to varnish and use as is.
1980s
Al found this abandoned boat in a Milford boatyard (by now you might be noticing the re-occurring abandoned/rescue theme.) It was either a MacGregor 22 or a Venture 21 "pocket cruiser" (MacGregor Yacht Co. 1960s-2013) with a pop-up camper top. Al cleaned it up and used it for a couple of years.
As the babies became active children, Al needed to get back on the water with a suitable boat. The Lightning is a stable sloop rigged sailing dinghy originally designed by Olin Stephens of Sparkman & Stephens in 1938. More than 15,000 Lightnings have been built since then. There are over 500 fleets of Lightnings worldwide, many of which participate in dinghy racing.
Looking around, he found this Lightening in Stratford. It had fallen off of its trailer in a wind storm and onto a tree stump, putting a hole in its hull. Al moved the boat to his brother's place (another Watson who suffered from the same genetic boating disorder) on the Housatonic River in Stratford where he repaired it and made it seaworthy. Some days he worked in dress pants and a t-shirt on his lunch hour from work.
Al enjoyed sailing the Lightening for a couple of years, but wanted to find something in fiberglass, again.
 Back to a powerboat again, this 18 ft Winner with a 55 hp engine was transportable on a trailer. Al used this runabout to teach his children to waterski on the Connecticut River. The 55-horse engine broke shortly after the purchase. Al had to completely rebuild the head, which is great experience if you have a thing for boats.
Can you see the KOOL sailboat in the background? Al is in it, while Alicia, his daughter, is walking up the ramp.
This boat model/make is actually a "Snark", the least expensive and lightest sailboat with an 11′ expanded polystyrene (styrofoam) hull and marketed as "unsinkable." It was advertised as "foolproof" sailing. In 1971, Kool cigarettes initiated an advertising campaign where consumers could mail order a Snark with the Kool logo on the sail – for $88 along with one KOOL carton flap – which included delivery. A different world, wasn't it? Al was never a smoker so he acquired it secondhand.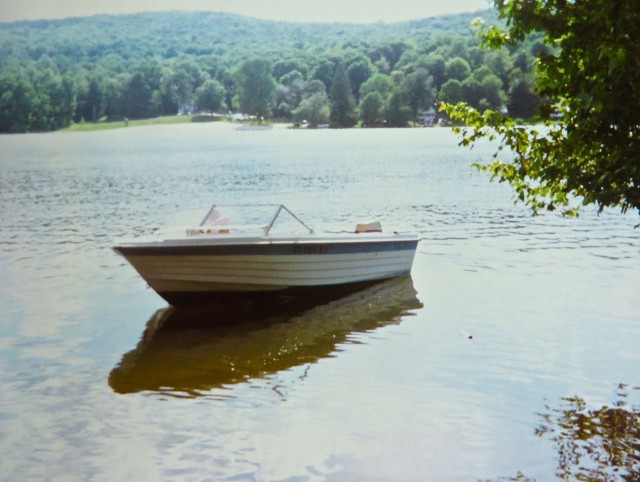 Then came the time when the boats were large enough to have a name.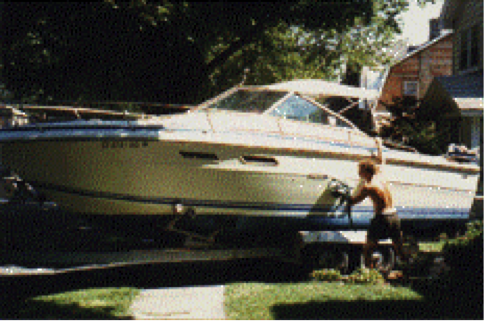 1990s
After the Sea Rays, Al convinced his partner to try sailing. He had discovered an abandoned (ahhh) sailboat in Branford. A Coronado 35 (Coronado Yachts, from 1964 to 1976, was an  alternative brand to Columbia Yachts) . The boatyard had no information on this boat, which had just been sitting there for years — no owner, no bills paid and in terrible condition – jars of pickles, towels, bedding all just left inside. Along with fields of mildew everywhere. After nagging the boat yard, Al convinced them to put the boat up for sale at an auction. Al and two other guys showed up for the Saturday morning auction which ended with Al as the new owner, for $1200. Not bad for a 35 foot sailboat. This boat was my first introduction to boating. Instead of dinner or movie dates, I spent my free time helping Al clean the mildew out of this boat and get her ship-shape. She wasn't pretty, and she wasn't fast, but she was a boat. In addition to extensive cleaning and assorted fixing, she needed sails (another guy gave Al some old sails that he had), a rudder (had been removed for repair when boat taken out of water so Al installed it), woodwork, upholstery and a bimini (I made one out of a sheet until we could have one made out of Sunbrella.)
The business partnership separated and Eventide was put up for sale. A young couple from Rhode Island bought her, trading their boat and money in exchange for the Coronado. Al's partner got the money and we got the little 26-foot Tanzer sailboat.
Al sailed the Tanzer back from Rhode Island and we only sailed it once or twice together. We were engaged to be married and quickly realized that this would be too small for us and our four children. So, during the winter of 93-94, Al began to haunt the boatyards again, looking for boats that had outdated registration stickers.
This Irwin 37, named Unicorn, was sitting in a Mystic boatyard, abandoned by its owner. (Yes, really, another abandoned boat!) The yard would only inform Al that the storage bills are paid and they could not give him the owner's name. But go ahead and take a look at the boat. Inside the boat (shall I mention that it was in terrible condition???), Al found the owner's name on a sail bag. Determined guy that he is, he looked the name up in the phone book (no googling in 1994) and found three people with that name. He wrote a letter (no email back then) to each one and got a response from the actual owner of the Irwin. The owner, who shall be referred to as Mr. X, chatted with Al, admitting that although he was paying the boatyard bills, he had not seen his boat in many years (like 10). His wife was an equestrian which absorbed a considerable amount of their time and they no longer sailed. When Al explained that he could not make an offer on the boat until he sold his Tanzer 26, Mr. X said that he would like to try sailing again – let's trade boats. Sure, why not? Works for us! We had to have the boat hauled over land because it could not be sailed at this stage. Al knew this project boat was going to take some time and asked the hauler if it could be put in our back yard (we were going to be married that summer in the back yard). The hauler looked at the back yard, which sloped downward to the woods, and said, sure, he can get back there, but it was never going to come back out. Well, a sailboat that remains in the backyard defeats the purpose of having a sailboat, so she was hauled to a yard in Portland.
What a lot of work! In Mystic, Unicorn was supported on a cradle with the name "Patience" painted on it. What better name could this boat have? This was the first boat that we re-named.  It would take a year for Al to make her seaworthy again. First, she needed a new engine. There was a knock in the engine when she was last in the water (10 years earlier-  frozen engine.) Al acquired and installed an engine from a plumbing contractor who had an old lobster boat. We had a bottom scraping picnic with our friends to remove all of the bottom paint –blue Smurfville everywhere! During the winter, Al did a total galley makeover because the wood had deteriorated into compost-like crumbles from wetness. New upholstery covers, plus a myriad of other items revived the boat.
Footnote for Mr. X.  He kept the Tanzer 26  in Essex and used it for one year, or at least it was newly registered for that one year. It has not been back in the water since 1995. Nineteen years later, it still sits on the hard there in the Dauntless Boatyard. History repeats itself????
Late 1990s- 2000s – the Era of the Kindred Spirits
In 1997, Al informed me that it was time to sell the Irwin. He really liked the Catalina 34 and was going to search for one that was within our price range (not an easy task.) After Patience sold and was moved to the Chesapeake Bay region, Al found a 1986 Catalina 34 (Merry T) in Mamaroneck, NY. When he took me to see it, I knew this would be our next boat because it smelled just like the others (All I knew about boating was that you find a smelly boat and fix her up. And then sell her.) This little gem was in much better shape than the other two (Eventide and Patience) but had also been neglected. We spent weekends cleaning and making necessary repairs so that she was ready to travel east to the Connecticut River. She became our first Kindred Spirit and we began to take overnight trips more often. Al's C34 projects became nationally known and are still featured on the Catalina 34 International Association's homepage and C34 upgrades page.

In the winter of 2002, Al broke my heart when he announced that it was time to sell our Catalina 34. We often dreamed that someday we might spend extended time aboard a boat (a year perhaps) and needed something larger for cruising. Our wish list included a center cockpit again for the comfort of a centerline queen berth in the aft cabin, a swim platform, comfortable chairs in the salon, and a refrigerator instead of a cooler. Al had noticed a very nice sailboat, a 1987 Morgan Center Cockpit 43 (Nelson Marek design) in the Clinton marina where he was racing on Wednesday nights, but was sure we could not afford it. Within 7 days after the Catalina sold, we made a deal and bought it. Wishes can come true!
We owned our Morgan 43 from 2002 until 2014, for 12 years.
She required no repairs, except for an immediate name change- L.O.C. (Lost Opportunity Cost). This Morgan 43 became our second Kindred Spirit, our last boat, or so my Captain promised. Although she was in good shape, the Morgan was missing a few of our wish list items – a centerline queen berth, a swim platform, and salon chairs, and the bimini was too low for a tall guy like Al. Over the 12 years that she was ours, Al remodeled and recreated her with the goal of comfort and safety for extended cruising. The most significant changes:
centerline queen
sugar scoop transom
comfy chairs in the salon
a hard top instead of the bimini with an enclosure for bad weather
an arch on the transom for the dinghy storage
new galley counter
new refrigeration with a separate freezer compressor
more pantry storage
new sink and counter with more storage in aft head
sail lines back to the cockpit and fast sail track on the mainsail, custom "stack pack for the main sail instead of a basic sail cover
We figured that we could enjoy all of these features before cruising in our retirement years. And we did. Every summer included a three-week cruise among the southern New England islands of Block, Cuttyhunk, Martha's Vineyard, Nantucket, the coast and bays of Rhode Island and Massachusetts, as well as Cape Cod and Provincetown.
Our plans faced a roadblock in 2011 when I was diagnosed with ovarian cancer. After a challenging recovery, including chemotherapy, we were sailing again in 2012, thinking about what the future might bring. By early spring 2013, I decided to retire in July so that we could have our "big adventure" before time slipped away. And thus, this blog was born, a journal of our cruising adventure and filled with beautiful photos of our Morgan, Kindred Spirit, in the Bahamas.
In 2014, we are with yet another boat. Our Morgan was sold in June of that year and we are transitioned to our third Kindred Spirit, a trawler — 2003 Mariner Orient 38.  We continued to  enjoy life on the water, including a second trip south tot he Bahamas in the winter of 2015-2016.
Forward to 2020……. In October 2019, Al searched and found the boat of his dreams. We now own our fourth Kindred Spirit, a 2004 Kadey Krogen 39, Hull # 42, which s also our THIRD LAST BOAT.