As the WD-70 Extravaganza Cruise brochure states, "This cruising itinerary is dictated only by the crew's desires and the whims of sweet Mother Nature." The winds kept us at Block Island longer than originally "planned," but that turned out to be just fine. We opted to make a longer 50 nautical mile day and go straight to Vineyard Haven on Saturday.
More boats were arriving at Block for the weekend, but there were noticeably more sailboats at Champlins than is typical. A few sailboats around us had all male crews and no dinghies. A sign that there must be an imminent race. Al questioned a nearby sailboat to see if there was a scheduled race for the day. Yes, but it was delayed. After days of high winds, there was very little for race day.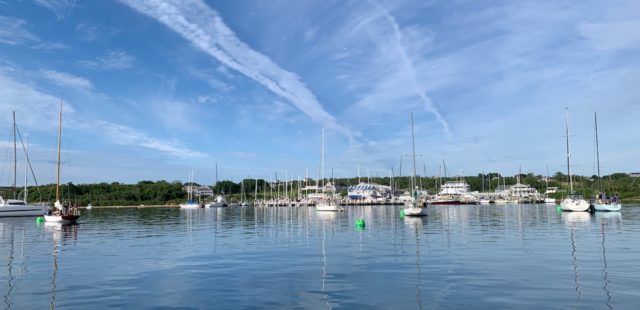 The captains timed the day's trip to take advantage of the current in Vineyard Sound and around the north tip of the island. Our goal was to anchor inside of Lagoon Pond in Vineyard Haven. There is a bascule bridge that only opens for boats during specific hours. We had explored the pond by dinghy on our last stop in Vineyard Haven, but we had never anchored in there.
We have a story, one of those boating stories. 😳😩😬
Our sailing buddy, Dan, mentioned that the current can be swift through the bridge. We are a powerboat, albeit slow, so I guess we didn't take the caution seriously. I did inform the captains that the 5 pm opening would be at peak flood into Lagoon Pond. The bridge tender said "you have an incoming current." Well, it was the perfect time NOT to go through the bridge. The bridge tender should have said, "Wait! DO NOT try it during this current." The approach is at an angle, we did not have enough speed as the current swept around the bridge and slammed our starboard side into the bridge. With little control even possible for those few seconds, Al muscled Kindred Spirit through the opening and we got through, shaken. Limerick was behind us, saw the problem but did not have sufficient time to abort. As we looked back the same thing happened to Limerick.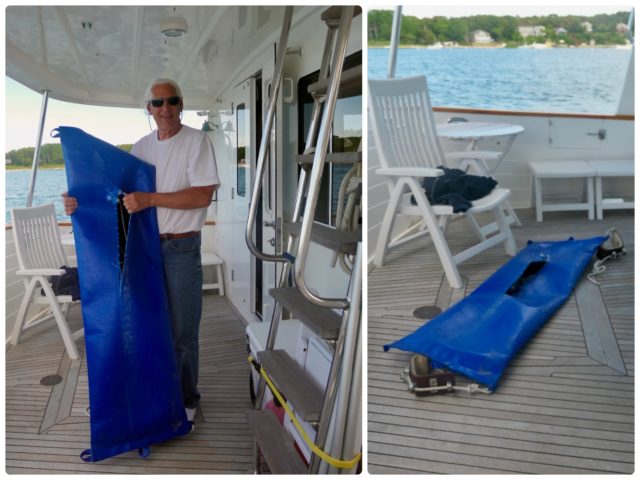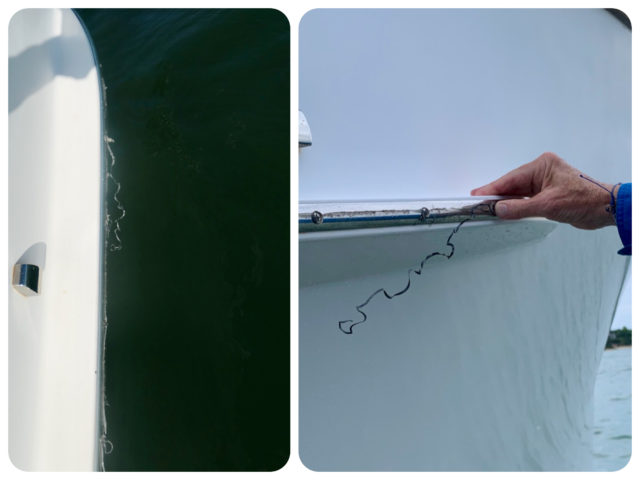 So, after feeling like a pinball bouncing off the lever (Don's description) we settled ourselves, and breathed deeply with a sigh of relief that neither boat was damaged. The captains, naturally, revisited the event over and over to digest every moment. Their conclusion? NO WAY are we doing that again. When we depart Lagoon Pond, it will be at slack current.
The next morning was lovely as I sat and sipped coffee in the aft cockpit, watching the ferries.
Vineyard Artisan Festivals are held on Sundays at The Grange in West Tisbury. The Artisan Festivals promote Island Art & Craft forging a connection between the island community and the Arts for new and established island artisans. We always try to get to it if we are on the island at the right time, so we hopped a bus and headed out for West Tisbury.
This Sunday was the first Artisan Festival of the season. I think it was smaller than what I remember from July or August, understandably. I missed the lavender lady and the weaver. I have such admiration for the gifted artisans who create in all manner of mediums, pottery, clay, photography, painting, jewelry, fabric, basketry, wood.
Just across the road from The Grange is the Field Gallery, established in 1970 by Tom Maley and friends. Inside the barn-like building is a commercial gallery exhibiting the work of Vineyard artists.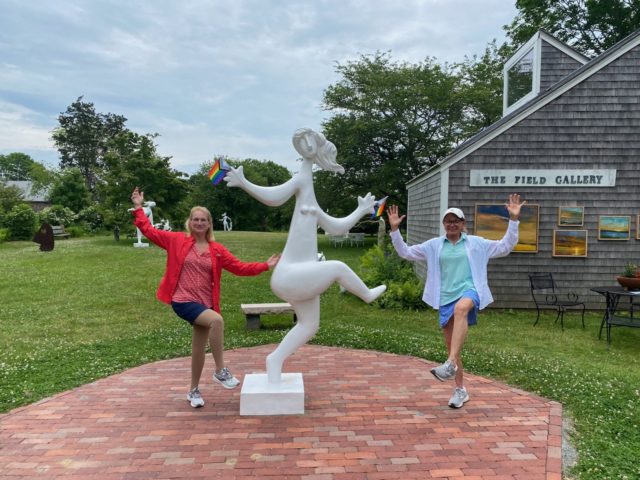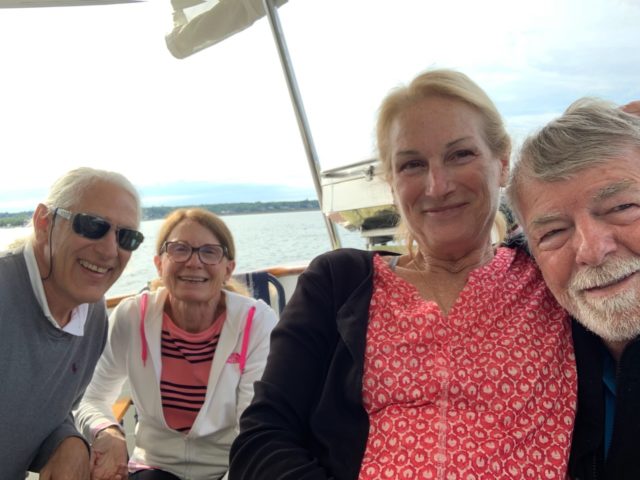 A beautiful day became a very rainy night and morning, but it cleared surprisingly fast. An excuse to have a slower morning is sometimes welcome.
Al and Don discussed potential boat projects such as Limerick's refrigeration and Kindred Spirit's autopilot/chartplotter communications. The big event was a practice run of lowering Limerick's mast for their voyage up the Hudson to Lake Champlain in July.
For the afternoon we chose to head back into Vineyard Haven for a late lunch/early dinner, whatever you wish to call it. A Monday in mid-June is a quieter scene than Sunday. So nice!
I showed Cindy my favorite stores here – Rainy Days, a fun gift store with everything, La Roux, the best kitchen shop anywhere, Brickmans, a good place for sporting clothing, shoes, and accessories. Bunch of Grapes, a sweet independent bookstore, and Whatever, sterling silver jewelry.
The Black Dog was chosen for our lunch/dinner (linner, dunch)? We always grab a bite to eat here. Yes, there are other restaurants in Vineyard Haven but the Black Dog food is good and you can see the harbor.