The day we left Five Islands was a near perfect "10", close enough for us to give it that score. Blue skies, calm seas, and a light breeze.
Along the way we passed two lighthouses, each with their own interesting history.
Cuckolds Lighthouse, Southport, Maine is located on a pair of small islands outside of Boothbay Harbor. The tower and lighthouse keeper's house was built in 1892 for $25,000 to provide safe passage in the fog to Boothbay Harbor. The lighthouse was automated in 1974 and then the Coast Guard designated it as unnecessary in 2004. The National Historic Lighthouse Preservation Act led to the creation of Cuckolds Island Fog Signal and Light Station. From 2010-2012 the buildings were all rebuilt. In June 2014, the beautifully restored lighthouse opened to overnight guests as the Inn at Cuckolds Lighthouse with two elegantly appointed, modern luxury suites .
Tenants Harbor Lighthouse on Southern Island, is at the mouth of Tenants Harbor, St. George, Maine. Erected in 1857 the tall cylindrical tower stood 27 feet tall.. The lighthouse was decommissioned and sold at auction in 1934. In 1978 Andrew and Betsy Wyeth purchased the property. Wyeth had a studio inside the base of the bell tower.
The lighthouse appears in paintings by Andrew Wyeth and by his son Jamie Wyeth. A little googling revealed these —
We headed into Tenants Harbor and were directed to our mooring by Tenants Harbor Boatyard.
After getting settled on our mooring, we went to shore to explore and have lunch.
This was definitely a "10" day, ending with a lovely evening sky.
We awoke to an absolutely perfect "10" morning, too!
Tenants Harbor is a busy harbor, but not too busy. Lots to watch, but never annoyingly hectic.
The previous evening we saw a lovely schooner enter the harbor and anchor for the night. This morning they were ferrying people back and forth to shore. Just as we dropped our mooring, we could see the schooner leaving ahead of us. Victory Chimes, is a three-masted schooner, built in Delaware in 1900, and originally known as "Edwin and Maud" named for her first captain's children. A US National Historic Landmark, she is the last surviving Chesapeake Ram schooner.
The ship is now a charter cruise boat, "offering unique 3 – 6 day all-Inclusive, Maine sailing adventures. We set off by wind and whim, so we don't specifically know where we'll end up. Each trip is a unique adventure, rich with fine sailing, delicious food, comfy cabins and good company."
What a day on the water! It was so perfect that we moved to the flybridge for the short trip we had planned.
Another Maine lighthouse caught our eye – Whitehead Island Lighthouse. Thomas Jefferson signed the authorization for the construction of a small dwelling and a stone lighthouse in 1803 on Whitehead Island at the mouth of Penobscot Bay.
Our route for the day was 7 nautical miles to Spaulding Island to visit our friends from the Bahamas and Maine who are rebuilding a cottage that overlooks the cove there. They suggested we might want to detour to the other side of Muscle Ridge Channel and check out a little harbor between Dix Island, High Island and Birch Island. It was a perfect place to spend an hour exploring. It reminded us of poking around in the Bahamas, finding sweet little spots to spend an afternoon. The water is incredibly clear, just not as blue. And a bit chillier.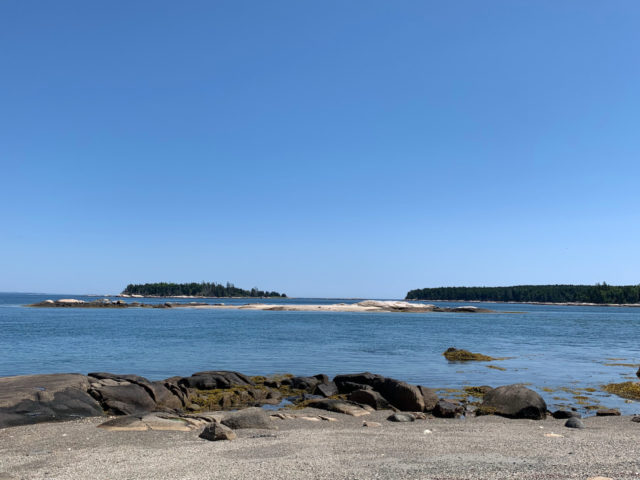 After a couple of hours of exploration, we crossed Muscle Ridge Channel to Spaulding Cove. John and Carol were preparing lobster chowder!