On Tuesday, the eighth day of our cruise, we left Great Cheabeague Island and moved on. The morning was hazy and overcast, but the water was once again very calm. Lobster boats and lobster pots were our companions.
We had two possible destinations in mind. Many people had recommended Love Cove and A Cruising Guide to the Maine Coast had good things to say about it and Five Islands. The Five Island Yacht Club has 3 guest moorings that are free for two nights, first come, first served.
We decided to pass through Five Islands and see what it was like. With a bit of searching we came upon one of the FIYC guest moorings and grabbed it. Ahhhh. Now this little harbor looked like what I imagined Maine would be. It was so nice and comfortable that we spent two days here. The sun came out as soon as we picked up the mooring. A good sign!
Five Islands is a small natural harbor with deep-enough water formed by five small islands on the west side of the Sheepscot River. Malden Island is the largest and is home to summer cottages and the yacht club. The only other one of the five islands that has a name is Crow Island, on the northern end.
This is a working harbor filled with lobster boats and the main attraction is Five Islands Lobster Company, which sells lobsters from a dock overlooking the harbor and prepared foods from their snack shack. Our treat for the afternoon was a late lunch of lobster rolls.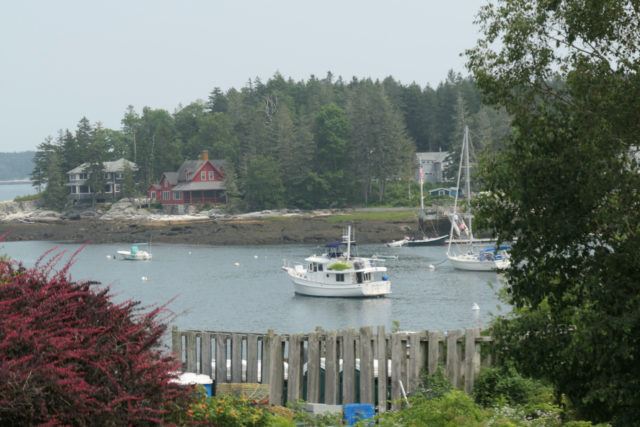 We awoke to fog surrounding us and throughout the little harbor.
A short walk up the hill from the Lobster Company took us to the charming Five Islands Farm Market, a sweet shop that sells locally produced and raised produce, meats, and specialty foods such as local artisan cheeses.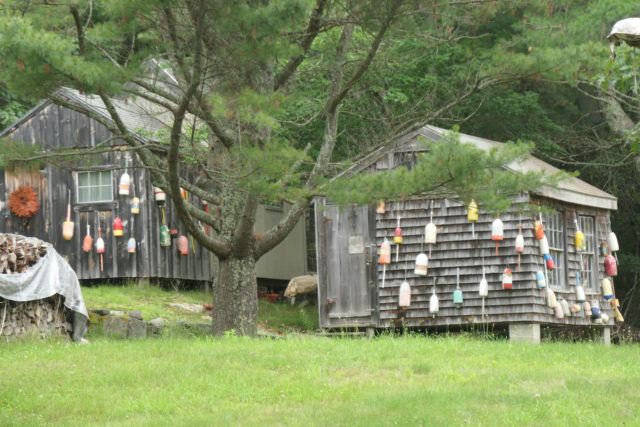 Around lunch time, we had an up close and personal encounter with the lobster boat moored next to us, Truly Blessed. I really appreciate such a thoughtful and inspiring name, but at the moment it felt more like a mixed blessing.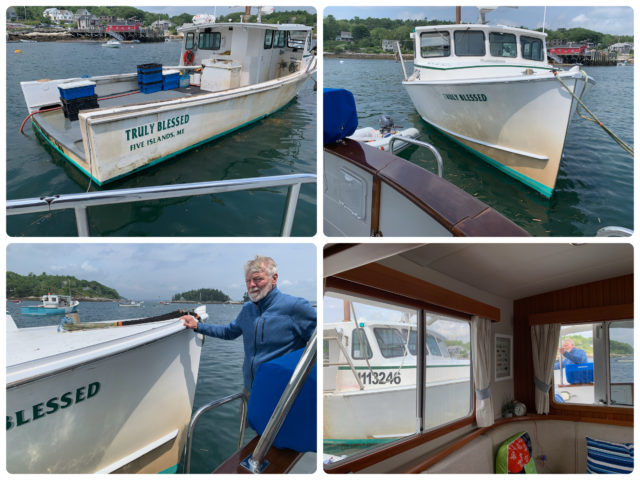 Next on our agenda was another dinghy ride around the islands.
Taking another walk down a road of piney woods, we found the Ledgewood Preserve, 28 acres along the peninsula in Georgetown.
What a beautiful day to sit on a rock or explore.
We enjoyed our stop here at Five Islands, Georgetown.