Saturday, July 24th, we left Spaulding Cove on another "10" day. With sunshine, a light breeze and calm seas, it was relatively easy to dodge the lobster buoys. "Relatively."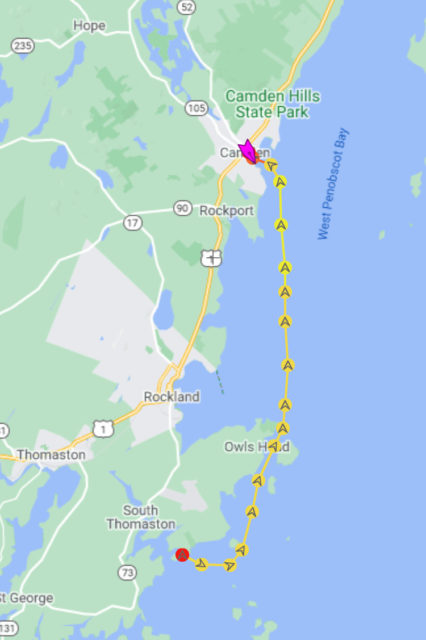 Before we could enjoy anything, Al did his engine check and dripping water from above in the engine room. Where did it come from?? I went into my galley and soaked my foot by stepping on my galley rug (my beautiful galley rug.) There must be a connection so Detective Inspector Al pulled everything out from under the galley sink to find a reason and make it stop. Ahha. The small hose to the cold water faucet had a pinhole leak and had been spraying water for several hours. We were both amazed at how much water there was from such a tiny leak. It even found a way into the storage under the salon seating near the galley wall.
We had reserved a floating dock from Lyman Morse in the inner harbor at Camden, a very cool system.
It was a short dinghy ride into town for a first exploration. Camden is charming and it is easy to see why people flock to it. We had visited Camden once before by land and were happy to be back by water.
Checking out Camden's ice cream option at Camden Cone.
Into each life a little rain must fall. Or a lot. The next day, Sunday, was dreary and wet, oh so wet. As if we hadn't made enough of our own wetness yesterday with the water leak. Before the rain began, we decided to have breakfast at Marriner's, a family-owned restaurant in town. We enjoyed sitting outside on the deck, watching and listening to the waterfall.
Lyman Morse Marine has a courtesy car so we reserved it for the 2-hour limit.
Remember the Swans Island Yarn shop? We drove to their showroom and manufacturing location in Northport, about 8 miles. Cheryl gave us a personal tour of the facility.
The throws and blankets are woven on huge vintage industrial looms. Although a weaver works each loom, the shuttles are not thrown by hand but are powered by a pneumatic cylinder.
Monday's forecast was for early fog and then clearing. Haha. There was dense fog that slightly cleared for a brief time in the morning and then slammed back in for the rest for the day. We had to leave our floating dock and move out to a mooring in the outer field for our last night in Camden. We lucked out and had enough visibility to find our mooring. Thinking that visibility would last or improve, we dinghied back to town for one more ice cream.
Back in the mooring field and guess what? A Kadey Krogen 44 had the mooring next to us!
What a nice time we had in Camden! There is even more but that will have to wait until another blog.