On Thursday morning we left Oak Bluffs for Edgartown, another short trip. Leaving the compact Oak Bluffs harbor takes a bit of forethought because of the ferry traffic in and out all day.
As we dropped the mooring line to depart, Al saw the ferries outside the harbor, one was the big car ferry that passes by and docks on the outside. The Island Queen and Lady Martha were also on their way, into the harbor. Time to circle in the mooring field and wait.
We have spent a large part of our boating years together visiting Martha's Vineyard, and it is challenging to add something new to the blog posts. Our first visit was by ferry in 1994 on our honeymoon and then by boat for 3 weeks of the summer, for 20 years. I already wrote about walking around Edgartown in 2017, and another visit in 2019. I never tire of these familiar Edgartown sights. We have our traditional "must-do" list that we repeat because we simply enjoy it that much.
We had to introduce Don and Cindy to Edgartown harbor's water dock. It's unusual (we have never come across another like it) and because we both needed water.
The harbormaster assigned us to mooring #19 and gave the ok with cautions for rafting due to the predicted strong winds for the next few days. It was a good location with a fairly short dinghy distance to the docks.
An introductory walk around Edgartown led us to an ice cream shop. Almost surprised you, right? Haha 😜. Our favorite shop, Scoop Shack, was not open for the season yet so we settled for one on the wharf.
There are always plenty of boats to watch in Edgartown harbor.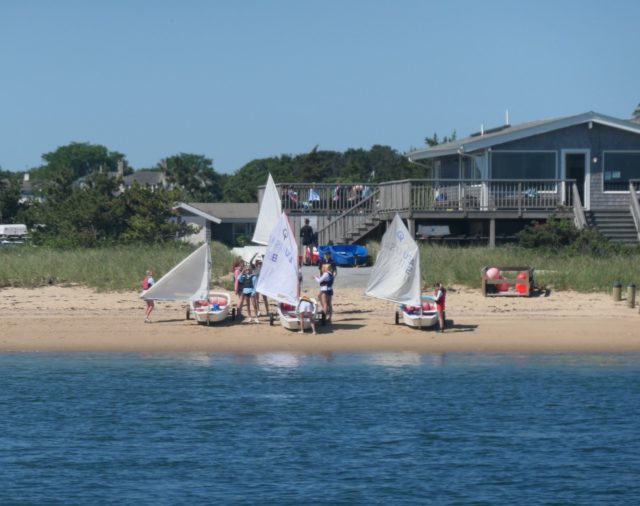 Friday brought another round of wind and rain overnight followed by a morning of clouds and fog. It looked like a pretty dreary day ahead so we made it a cultural and historical day.
Between 1886 and 1919, industrialist Andrew Carnegie donated more $55 million to build 2,509 libraries, including 1,679 of them in communities large and small across America. "A library outranks any other one thing a community can do to benefit its people. It is a never failing spring in the desert." The Edgartown Library, built in 1904, was the smallest of Carnegie's libraries. When Edgartown built a new library in 2016 the building became the headquarters of the Vineyard Preservation Trust, serving as a museum to showcase the history of Martha's Vineyard. The Trust owns and maintains more than 20 historic properties. "Through its stewardship, Vineyard Trust strengthens and cultivates community, celebrates the island's unique character, and ensures that these invaluable assets remain landmarks for life."
The interior of The Carnegie is beautiful and houses the Trust's permanent exhibitions, "Living Landmarks."
We took the Trust's historic walking tour of Edgartown (something new for us) and learned about several historic sites in the town.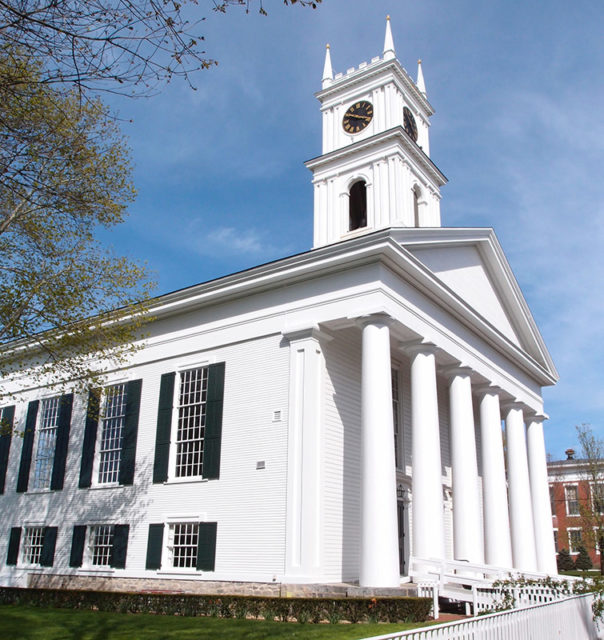 We have been inside the church before but never realized that the arch at the front is a mural. Originally painted by Swiss artist Carl Wendte, it is a full scale trompe l'oeil mural transforms the flat surface into a a what appears to be a three-dimensional arch. The side walls and rear are also painted in this style. The murals were recently reproduced by island artist Margot Datz using months of careful research and a rare photograph from 1865 as a guide.
After an afternoon on our boats, we headed back into town for my absolute favorite event of our trips to Martha's Vineyard – A Vineyard Sound concert!
The Vineyard Sound is special to me. To repeat what I wrote in 2019 "I first heard them back in 1993 when they sang at Silas Deane Middle School in Wethersfield where I was then teaching 7thgrade mathematics. Two of the founding members had attended the middle school so they did a concert there for the kids. When we honeymooned on Martha's Vineyard in 1994, we looked them up and have tried to catch a concert every time we have been here since then. Naturally the members change over the years, but I must admit, with chagrin, that I was caught off guard when I realized the current singers were not even alive when we heard the first Vineyard Sound concerts back in 1993. Feeling old……………"
Saturday was a better weather day, but not as sunny or warm as we hoped. Boat chore time before fun – that means scheduling a pump-out with Mike.
The weather wasn't good enough for a dinghy ride out Katama Bay to Norton Beach so we opted for a picnic lunch on the beach by the lighthouse. Lots to watch there!
That evening, Colin and Gail visited us for a happy hour on board Kindred Spirit.
The crews of Limerick and Kindred Spirit were uninvited guests at a wedding on the hill above the harbor. It was a cold evening, but the bridal party bravely carried on from what we could see and hear.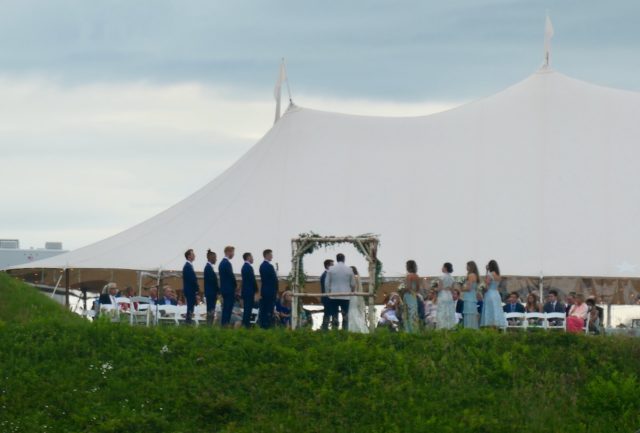 That night and Sunday were cold and dreary. Mid-50's at night (brrrr) and rainy and chilly all day. We did boat chores, held a planning meeting for the next leg of the cruise, and then bravely dinghied to town for a little shopping, groceries and shirts. Oh, and a little ice cream at Scoops.
Monday was departure day. A bright sunny day still with a chill in the air. One more Watson tradition in Edgartown is breakfast at Among the Flowers.
After breakfast, we dropped the mooring line and made another stop at the water dock before heading to Nantucket. When Mike heard us on the VHF, he asked if we would be back this season. Now that makes me feel welcome. And maybe we will, who knows?