We were last here in 2016 when our trip was abruptly shortened due to a threatening tropical storm that never materialized in the end. I have some pretty nice photos from then, so I need switch it up a bit and find some new things to blog. Sharing Nantucket with Anthony and Annette made it feel newer, too. I estimate that we have sailed around these southern New England islands at least 12-15 times over the last 20 years, and have included Nantucket as a stop at least a half dozen times.
We anchored in our usual place near the southeast shore of the harbor, well beyond the moorings. Yes, it is a long ride to the town dinghy dock, but the price is right.
A bit of Nantucket history, for you history buffs –
Nantucket was discovered in 1602 by Bartholomew Gosnold, an Englishman who sailed from England in a small ship with 32 persons onboard, with Virginia as the intended destination.
In 1966, The National Park Service designated Nantucket as a National Historic Landmark District, calling it the "finest surviving architectural and environmental example of a late 18th- and early 19th-century New England seaport town." From the mid-1700s to the late 1830s the island was the whaling capital of the world, with as many as 150 ships making port in Nantucket during its peak. Source
Random tidbits of information:
Nantucket is a town, a county, and an island.
Located about 26 miles from Cape Cod, Massachusetts
16 miles long, 6 miles wide, just under 50 square miles with 82 miles of beach.
Nantucket's proximity to the Gulf Stream makes the island 10˚ degrees warmer in the winter and 10˚ degrees cooler in the summer than the mainland.
Nearly half of Nantucket Island is preserved as open space.
Estimated year-round population is 11,270 in 2019 with a summer population of over 50,000.
Estimated median house value in 2013 was $873,954, but Zillow now states it as $1,601,100.
Median gross monthly rent in 2013: $1,458.
There are no traffic lights on Nantucket.
Nantucket probably takes its name from a Wampanoag (Eastern Algonquian language of Southern New England) word, pronounced variously as natocke, nantaticu, nantican, nautica or natockete, likely meaning "faraway land or island."
Nantucket was given the name "The Gray Lady of the Sea" by sailors because of the thick fogs that roll in from the sea and blankets the island.
You will also see "ACK" as a common abbreviated nickname for Nantucket. Why is that? ACK is the Federal Aviation Administration's official 3-letter code for Nantucket Memorial Airport, taken from letters in the word Nantucket.
The 32-nautical mile journey from Lake Tashmoo to Nantucket took us just over 4 hours, not bad. Brandt Point Lighthouse greets us as we enter the harbor.
After settling into our anchorage locations, we wasted no time! We had the whole afternoon!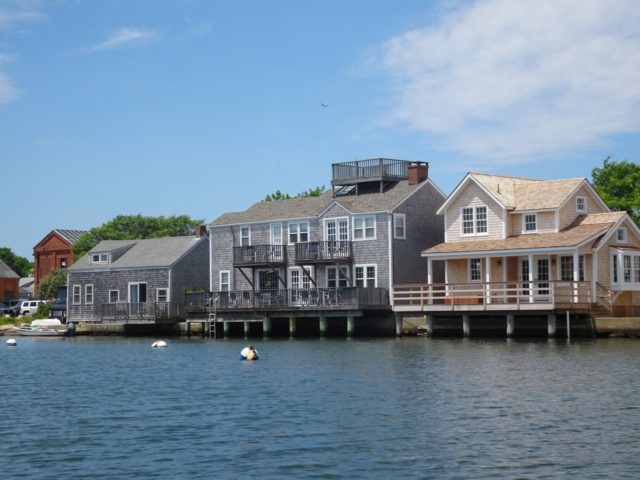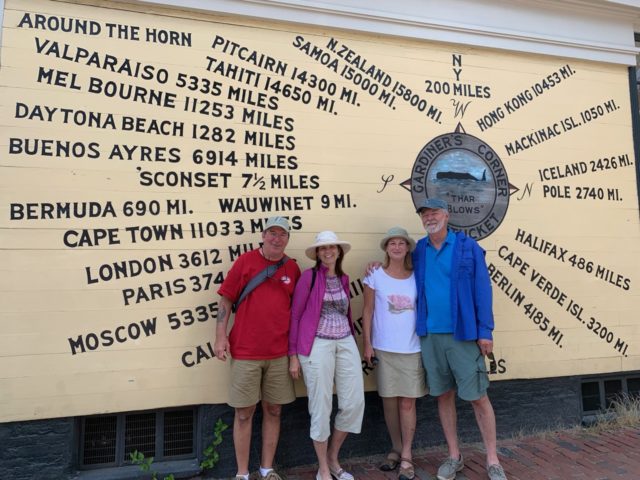 We took a bus tour around the island. Yes, we did. We were tourists because it is the easiest way to show the island in a short amount of time. The downside of a bus tour is that it is a tease because you don't have the opportunity to get out and explore.
The bus tour took us out to Siasconset, a separate town with its own post office, about 7 miles from the Nantucket harbor. 'Sconset is quite charming. Al and I haven't been out here in years and I think I would like to come back for a longer visit again.
Sankaty Lighthouse, built in 1850, automated in 1965, and still in operation. It is located at the easternmost point of the island overlooking the Atlantic Ocean in the village of Siasconset. The tower is 60 feet (18 m) high; its lower portion is constructed of brick, and its upper part is granite. It was one of the first lighthouses in the United States to receive a Fresnel lens.
"In the 19th Century, hundreds of ships passed by Nantucket Island each day, all navigating without the benefit of modern nautical technology. Unpredictable storms, dense fog and strong currents often caught even the most experienced sailors off guard. Treacherous shoals and inclement weather led to over 700 shipwrecks in the surrounding waters of Nantucket, causing the area to be dubbed "a graveyard of the Atlantic."
The next day, July 16th, was Annette's birthday. We began the celebrations with a breakfast on Kindred Spirit. How did we not take a photo of that??
After cleaning up and a rest, we went to shore for a special dinner. Anthony made reservations for Oran Mór Bistro. Oh my, what a dinner it was! Absolutely upscale delicious!
After that edible feast at Oran Mór, we walked around the town so that our eyes could also feast on the amazing floral displays. Every building has a window box or or some other beautiful display.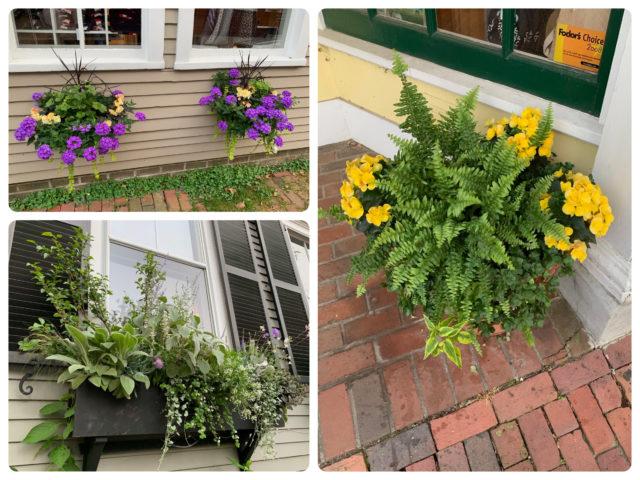 Whenever we stroll around the streets of Nantucket, mostly window shopping, we stop into Nantucket Looms. Nantucket Looms sells items from local artisans, including painters, potters, wood carvers, basket weavers and jewelry makers that represent the beauty and simplicity of cottage-style living.
In 2009 we visited the shop and were captivated by a framed woven piece under glass with "sea glass" nestled among the threads. It was a wonderful way to display the glass, but alas, that glass was not true sea glass. We inquired about a custom piece sometime in the future. Fast forward to the next summer, 2010. We carried our most favorite sea glass finds (at that time) with us on our sailboat and met with the weaver to create a custom display. She chose specific pieces from our collection and created our own unique and very special weaving of sea glass. One of my treasures.
Every morning there were sailing classes for little people and bigger folks. We were close enough to easily hear the instructors on their megaphone, calling out directions, cautions and encouragement.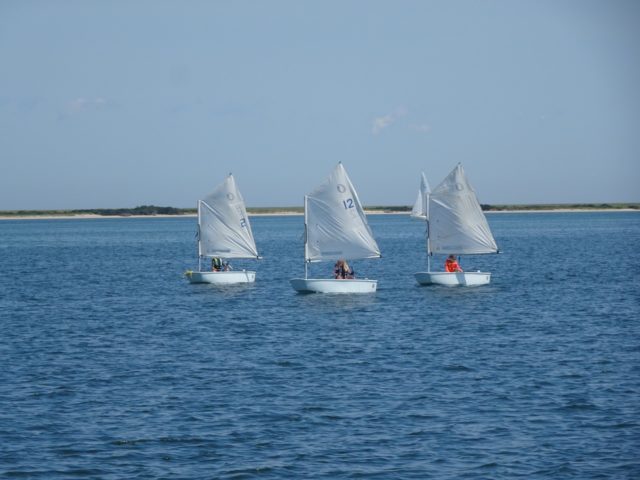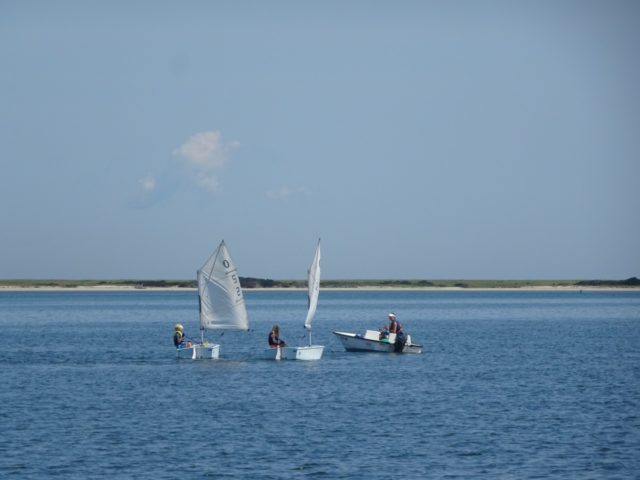 Our third day was another fully packed day. Annette and I decided to visit the Nantucket Lightship Basket Museum.
The Lightship Basket Museum is dedicated to preserving Nantucket's rich history of basket making as an art form and to provide a permanent home for an exhibit of Nantucket Lightship Baskets, both historic and contemporary. I don't think I ever realized that these baskets were related to "lightships."
From the museum – "Lightships were first commissioned in Massachusetts in 1856. These ships functioned as floating lighthouses, providing light to passing ships in dark waters. With so little to do and so much time on their hands, the lightship crews tried their hands at weaving baskets and achieved great skill. The wooden bases were made on shore and the weaving and assembly took place on the ships. The baskets, which became known as "Lightship Baskets," for obvious reasons, were widely sought after. Most collectors and historians agree that the finest lightship baskets ever made were those made by lighthouse crews in the late 1800s."
"There is simply nothing more "uniquely Nantucket" than Nantucket Lightship Baskets." That is certainly true. Original authentic baskets are one-of-a-kind, handed down through generations, and very, very, very expensive. The Four Winds Craft Guild sells contemporary handmade Nantucket baskets, although not all are baskets. I stopped in there to look. And think. About how much I would like to have this very authentic memento of Nantucket. And I thought. We have wonderful memories of visits to the island, and I adore traditional hand-crafted items that have special meaning. Decision? Why not?
Off to the next event – a visit to Cisco Brewery. While we waiting for the free shuttle that takes you out there, the skies opened up earlier than we expected, much earlier.
This business venture began as a winery, Nantucket Vineyard, in 1981, next added Cisco Brewery in 1995, and finally distilled spirits at the Triple Eight Distillery in 2000. The three are actually separate businesses, each with its own building set around an outdoor picnic plaza, with food trucks.
We opted for a tasting tour.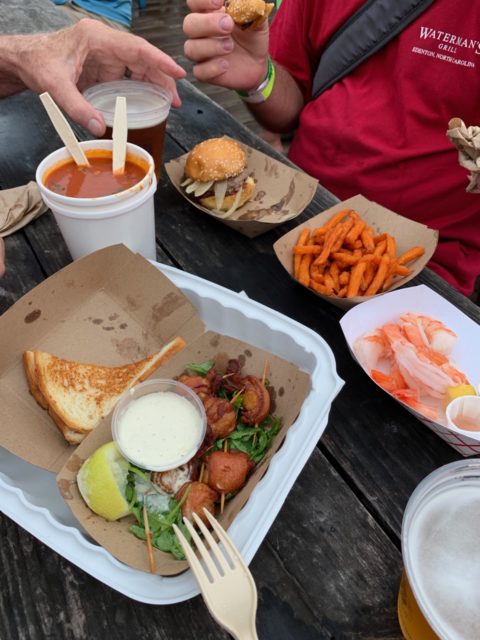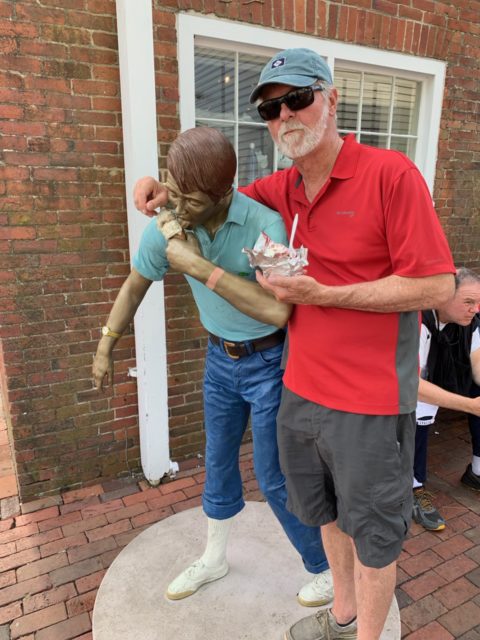 Last thoughts for this much too long blog post about our three days on Nantucket — Everyone has heard the first line of the infamous limerick, "There once was a man from Nantucket," but most of the versions aren't suitable for normal conversations. The series of original limerick exchanges began in 1924 with a published (and cuter) version in the Princeton Tiger:
There once was a man from Nantucket
Who kept all his cash in a bucket.
But his daughter, named Nan,
Ran away with a man
And as for the bucket, Nan tuck it.
We crammed a lot into those three days, and still left much to be explored and enjoyed. As it should be.