On July 10th, after a 3-day return home for a commitment, we made our second departure from Shennecossett to head out again and meet up with Magnolia at Block Island. We only spent one night at Block before heading eastward, so there isn't much to write about, especially since I have blogged about BI several times in the past. Our goal for this summer to show Anthony and Annette some of New England's treasures that they may have missed on previous journeys north. It's going to be a whirlwind!
It took us 5 hours to travel the 36 nautical miles from Block to Cuttyhunk at an average of 7.2 knots. I remember the days when it would take 8 hours in the sailboat.
We always anchor in the outer harbor at Cuttyhunk, rather than take a $45 inside mooring, as long as the conditions are safe for that decision. With our 77 pound Rocna anchor, it isn't a hard decision today. Al chose his old anchor spot near Pease Ledge……
Dan and Marcia on Cutting Class were working their way westward towards home. Perfect timing for a get-together as our paths crossed.
I've already done a blog post on Cuttyhunk from last year's summer trip, so I'll try not to repeat too much.
The next morning, another foggy gray beginning, we shared our tradition of breakfast at the Cuttyhunk Fishing Club with Anthony and Annette.
After breakfast, we need to work off the calories so we head up to the highest point.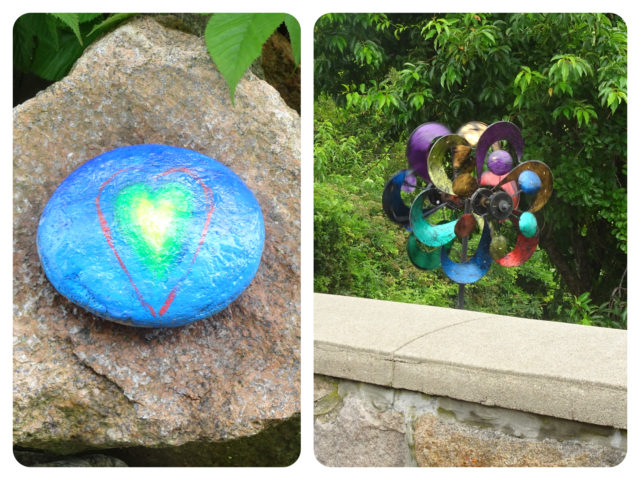 The views from the lookout are quite foggy.
We had to show Anthony and Annette the pizza place, "Sopranos", although we have never eaten there.
The day brightened to a nice warm glow. Al generously took Annette and I to the beach for a walk, and hopefully some sea glass finds.
There was only a few bits of sea glass to be found; not like the old days….. so we walked over to the other side. Nothing there either.
Later in the day, there is Kindred Spirit, with rain showers in the distance. Thanks for the nice photos, Anthony!
Moving on to Lake Tashmoo tomorrow.