How nice it was to awake on Sunday morning to a beautiful day in a beautiful place. We had bypassed Cumberland National Seashore, Georgia's largest southernmost barrier Island on our way south during our impulsive overnighter from Savannah to St. Augustine.
We did not want to miss this "magical and mysterious" place again. Our memories from 2013 of the island called us to stop again, even if only for a day. This national park is 36,000 acres of maritime forests, wild beaches, freshwater lakes, saltwater marshes, and 9,800 acres of protected wilderness.
Cutting Class had arrived later after a very long and tedious day from St. Augustine. They were anchored nearby so we went over to say hello and goodbye again simultaneously. They would be leaving in a few hours for a 26-hour offshore run to Charleston. Would this be a case of "ships passing in the night"? When cruising, your paths will cross from time to time which is what makes it such fun – connecting with good friends, meeting new ones, and reconnecting with folks you have not seen in awhile. Belle Bateau, a Gozzard 44, is a combination of both new and reconnecting friends. We had met Dudley and Cheryl at the beginning of our 2013-2014 trip through mutual friends, Magnolia and Eleanor Q at the SSCA GAM in Annapolis. Cheryl and Dudley were still land-based at that time, but in the intervening two years, they found the Gozzard of their dreams and cast off the dock lines. Although they did not make it across to the Bahamas, we had been in touch through email and FaceBook and hoped that our routes would cross at some point on our northward journeys.
The four of us became reacquainted again with a visit to Belle Bateau. Gozzards are exquisite boats with an incredible attention to details and well-thought out storage and space configurations.
Eager to hike around the island, we dinghied to the Sea Camp Dock. There were quite a few people, families around, probably because it was the weekend. It also appeared that quite a few had camped overnight.
We stopped on the boardwalk to the beach to re-enact our tree photo from 2013.
It was heaven to walk on a beach again. Pure heaven.
On an island where very few humans live, a herd of feral horses, numbering 150 – 200 roam around the wild environment. The horses here today are most likely descendants of horses brought by 18th Century English settlers. Since the 1920s, few new horses have been introduced to the island. Concerns about inbreeding and the lack of genetic variability led to the introduction of four Arabians to the island in the early 1990s, with hopes of diversifying and bettering the existing population. Science and environmental concerns aside, the horses are a major part of the intrigue and magic of Cumberland. They aren't mythical, Mary Marie, they really do exist!
We meandered back to Sea Camp dock through the paths that led to the ruins of the mansion built by Thomas and Lucy Carnegie in 1884. The mansion had been built on the foundation of the four-story tabby home constructed in the late 1700s by the Revolutionary War hero, Nathaniel Greene's widow, Catherine. Both homes were known as Dungeness.
Cumberland Island is one of the most hauntingly beautiful islands we have visited. I would love to stop and stay here again for days and explore more of it.
Decisions about our next travel day were grounded in weather conditions and the simple fact that the ICW in Georgia is long and winding. Monday's weather looked good for offshore travel and we jumped at the opportunity. Offshore, or "outside" as we also call it, would be 86 nautical miles to Savannah.
We wanted to get an early start for the long journey, so we were up and ready to depart before 5:00 am. As a major inlet, the St. Mary's is well-marked due to commercial and military (submarines) traffic in and out.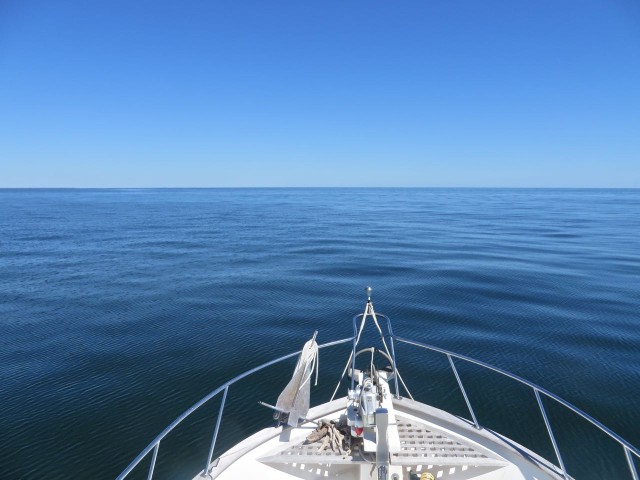 The offshore day ended with a turn into Ossabaw Sound and another couple of hours through that little Hell Gate. We anchored just off to the side of the ICW in the Vernon River near Skidaway Island. And fell asleep right after dinner.