Believe it or not, we cruised around Fishers Island Sound some more with Don and Cindy on Limerick and Don's brother, Tom and his wife, Dorian on their boat Post Flight. Once again (every year) we are thankful to live in a boating area that has lovely locations so near to our homeport. The two Long Island boats came east to visit and cruise, meeting us in West Harbor on Fishers Island.
When we saw them entering the harbor, Al jumped in the dinghy to assist with the moorings. First Post Flight and then Limerick.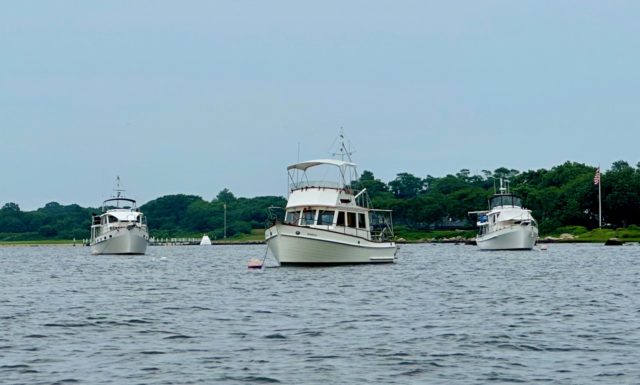 We passed oyster nets on a dock and have kayaked by the nets in the water. The museum had a "lantern net" on display.
We stopped in the Henry L. Ferguson Museum to see the new exhibit (last visit was in 2019) and a long chat with Director Pierce Reynolds who is always ready to share his wealth of knowledge about Fishers Island.
Stonington is a favorite harbor of ours so that was the next stop for the three boats.
Onto Napatree for a few days!
In a very silly juvenile moment this "tribute" to the week ran through my head, to the tune of "Three Blind Mice" –
Three Dahl boats, three Dahl boats
See how they sail, see how they sail
Up and down Fishers Island Sound
West Harbor, Stonington Napatree
Did you ever see such a sight in your life as three Dahl boats?
What a great week it was. We do love our home cruising grounds but also enjoy sharing it with others. We said good-bye to Tom and Dorian, and "see ya later" to Don and Cindy.