Ketchikan is a city on Revillagigedo Island (that's a fun name to try and say – Rah-villa-gi-gay-doh) at the southernmost entrance to Alaska's Inside Passage. Only accessible by sea and air Ketchikan (much easier to pronounce) is one of the rainiest cities in America and receives 261% more rain than the national average. Average annual rainfall of between 140 and 160 inches per year. We packed our rain gear but guess what? NO need for any of it! It was another beautiful day, really beautiful.
What to do with our time in Ketchikan? It is a very popular and colorful cruise ship port with a "touristy" side, but Ketchikan is also known for the many Native American totem poles. We chose Totem Bight State Park, an 11-acre park displaying totems and a Clan House that sits along the Tongass Narrows in a lush rainforest setting.
In the early 1900s, Native villages in Southeast Alaska were on the decline as people migrated to towns to find work. The villages and totem poles were left behind and were soon eroded by weather. In 1938, the U.S. Forest Service began a program to salvage these monuments by hiring skilled carvers from among the older Natives, and young artisans to learn the art of carving totem poles. Fragments of old poles were laid beside new cedar logs, and every effort was made to copy them faithfully. By the end of World War II, the community house and 15 poles had been made. Totem Bight was added to the National Register of Historic Places in 1970.
The history, culture and art represented by the totem poles is absolutely fascinating. I could have easily spent days just studying and learning abut the Tlingit and Haida tribes.
Totem poles serve different purposes. Some are a recording of important events, telling stories of the families and clans they represent. Some are a memorial to an important person and serve as a memorial. Many tell the stories of important myths or legends. Native wildlife such as bears, wolves, eagles, killer whales, and ravens are featured on totem poles. Totem poles were originally carved by hand from western red cedar trees using sharpened stones, sea shells, bones or even beaver teeth, taking between six to nine months to create.
The palette of colors used for the Northern tribe totem poles consisted only of black, red, and teal (greenish blue.) The black color is created from graphite and carbon, the teal from copper ore, and the red from hematite, a red iron oxide. The minerals were mixed with fresh salmon eggs and saliva to bind them together into a tempera-like paint. Chris said the native women would chew the salmon eggs in their mouth to mix it with saliva.
Walking through the rainforest with our guide, we were led to the clan house and the circle of ten totem poles in a large clearing.
The totem poles around the clearing stood tall like sentinels guarding ancient grounds. (Warning: Next comes seven totem pole photos with names and descriptions. It's the only way I will ever remember all of this.)
There are ten totem poles in the clearing, but I only had photos of six. I needed the park brochure and the internet to identify each. I do think it is a beautiful and unique art form.
The park had a combination museum/gift shop that was unusually nice. In my search for only authentic mementos to bring home to the children, I looked for a small totem pole. I did read that hand-carved Native American totem poles can cost $3,000 per foot. Once again, that wasn't what I was looking for. 😉
It was too wonderful a day to go back to the ship after the excursion so we set out to explore Ketchikan. It's easy to do because the cruise ships are docked just a block away from the main street of town.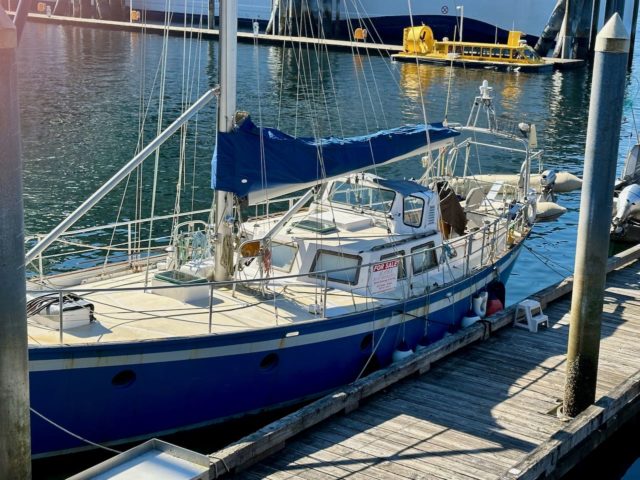 Revillagigedo Island is one massive rocky volcanic piece of land so many businesses and homes are built on pilings over the water of the Tongass Narrows.
Main Street, Ketchikan is one block up from Front Street and the waterfront promenade.
The main attraction in Ketchikan is historic Creek Street, also built over the water because of the rocky hills surrounding the creek. Colorful buildings line the boardwalk path along Ketchikan Creek.
During prohibition, bootleggers would smuggle in Canadian whiskey to supply the houses of prostitution and backroom saloons. The bootleggers would simply wait until high tide and row their rowboats right up the Ketchikan Creek to deliver their contraband under the cover of darkness. Deliveries were made through hidden trap doors underneath the houses.
During our excursions in Alaska we heard the story of the Alaskan state flag many times, and it's a nice one. Before 1927, Alaska, as a territory, did not have a flag and flew only the U.S. flag. In 1926, a contest open to all Alaskan children in grades 7-12 was held to design Alaska's new flag. Benny Benson, a 13-year old 7th grader from an orphanage in Seward won the contest. His design featured the Big Dipper ("Ursa Major" or "Great Bear" constellation) as a symbol of strength, and Polaris (the North Star) as a symbol of Alaska's northern location. The blue background represents the sky, sea, lakes, and wildflowers of Alaska. When Alaska became a state in 1959, Benny's flag was officially adopted as the new state's flag.
Ketchikan was the last Alaskan port on the cruise. Like the ports before it, we could have easily spent days exploring more. Next stop, two Canadian ports!