Evidently, there are a LOT of people who go on a LOT of cruises. We only met two other couples who were first timers like us; most of the other people onboard had been on 5 – 40 cruises, many on 20 or more. Since this was a first time for us, it was all new and different so this first blog post is going to cover our observations of the unique or the curious, to us.
May 7
First, you have to get onboard which is called "embarkation." As boaters, we embark quite often – "the act of passengers and crew getting onboard a ship." But, oh my, this was quite different.
This was not a positive beginning. It took three hours to get through the lines. As soon as we managed to reach the end of one line we were shuffled into another large space with more lines. Three people collapsed while in the lines! Veteran cruisers said this was the worst they had ever experienced and rumors abounded about the why's.
And then, after a day of travel that began at 5:00 am, we were on the Nieuw Amsterdam at 3:30 pm.
Why is the ship named Nieuw Amsterdam? Remember that the ship is a Holland America ship.The Dutch colony of New Netherland was established in 1614. New Amsterdam at the lower tip of what we now know as Manhattan became the capital city several years later. It was Holland's largest city by Dutch settlers in 1624. In 1664, the English organized a takeover and the colony was peacefully surrendered. The British renamed the city New York after the Duke of York who had organized the takeover. Throughout the ship, the art, and historical artifacts document New York's Native American history and Dutch influences.
Cruise ships are also quirky. There are some pretty funny aspects. First, they want to make sure you know when and where you are.
It's also important to know what is happening onboard each day. Apps on phones are the way to go now, but paper was still provided (there were some folks who did not have cell phones…….😳)
Food is a major part of a cruise, right? We discovered on the first day that there were lines (oh no, more lines!!!) at the Lido Market on Deck 9, described as a "modern marketplace includes a curated selection of delicious options that you can grab on the go or have made to order" but when you got your food it was usually impossible to find a table. We decided that the Main Dining Room was a better option for our dinners if we went at 6 pm or later after the "older" crowd had eaten first. We had chosen the "As You Wish" dining plan which meant we could go whenever we wanted between 5:15 – 9:00 pm, instead of the traditional dining of either a 5:45 or an 8:00 pm seating at the same table with the same people each evening. The food was good with enough choices. We liked that the portions were smaller than restaurants so we didn't ever feel stuffed.
In my preparation research for this cruise I learned about "cruise ducks". Hmmmm? Evidently there is a tradition of bringing a rubber duck and hiding it around the ship for others to find, Usually with a tag or note. It sounded cute. I'll play that game so I brought a small duck along with us and tucked it in a corner behind a section in a stair well. An hour later I realized I had not taken a photo of my little duck so we went back to do that. GONE! Already. But here's the thing – I never, not once, ever saw any other rubber duck anywhere on that ship. So is it an urban/cruise ship legend and I fell for it?
As boaters, we want to have information at our fingertips. On Deck 11, the Observation Deck, there were screens with live information about the sea state, weather conditions, and the ship's speed and rpms.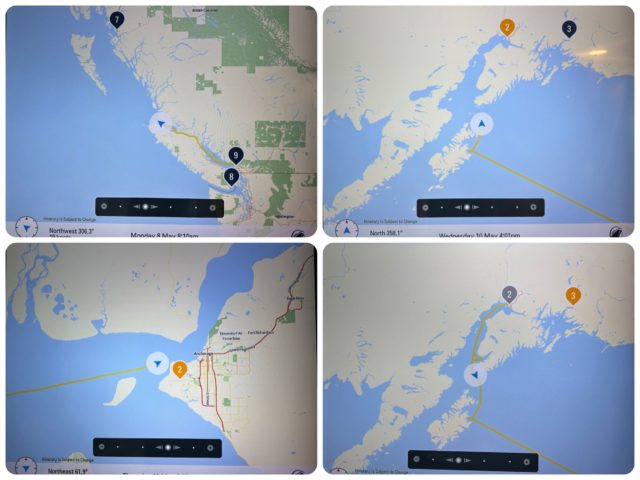 Let's move on and see Alaska!