Oh, the packing! Three weeks with temperatures ranging from the 30s to the 70s – just bring everything that fits in the suitcases, 2 checked bags and two carry-ons. We left for the airport on May 1st at 5:15 am and arrived in Redmond, Oregon at 1:00 pm where Tim and Amanda picked us up.
May 2
Tim and Amanda had reservations to play pickle ball so we went along to watch. We are pickle ball curious after hearing a lot about the game, here and there. We thought it was mostly for seniors but at the Widgi Creek Golf Center there were plenty of younger folks like Tim and Amanda playing. One of their foursome didn't show up, so guess who got to try a little pickleballing(??) We discovered we liked it! And then discovered there are simply no pickle ball courts near us at home (that we could find on a google search.)
After pickle ball and lunch, we headed off to Mt. Bachelor, one of the Pacific Northwest's largest ski areas and a volcano that last erupted 8,000 years ago. As a year-round destination, Mt. Bachelor boasts nearly 4,300 acres of skiable terrain, 360 degrees of skiing off the summit, and 3,365 feet of total vertical, and 370 inches of snow each year.
The day wasn't over yet. A short rest back at the house and we were off again. Tim is a beer connoisseur, a true lover of beer. We enjoy beer, too, although we are not at all the expert he is. Bend is known as the brewing capitol of Oregon with over 30 breweries in the town.
We walked from the house into downtown Bend to the Bend Brewing Company. The brewery was established in 1995 and is the second oldest brewery in Bend, Oregon. We sat outside to enjoy the deck and parklike setting along the Deschutes River. Yes, quite a contrast to our earlier snowy visit to Mt. Bachelor!
This first full day in Bend was not over yet. Next we walked to McMenamin's Pub and Brewing Company (Brewery #2) McMenamin's is a family-owned company in the Pacific Northwest that serves their own handcrafted beer, wine, cider, spirits and coffee with pub fare. They choose and then revitalize historic buildings turning them into hotels, bars, restaurants, gardens, soaking pools, spas, breweries, movie theaters, art, history, hidden rooms, fires, and fun.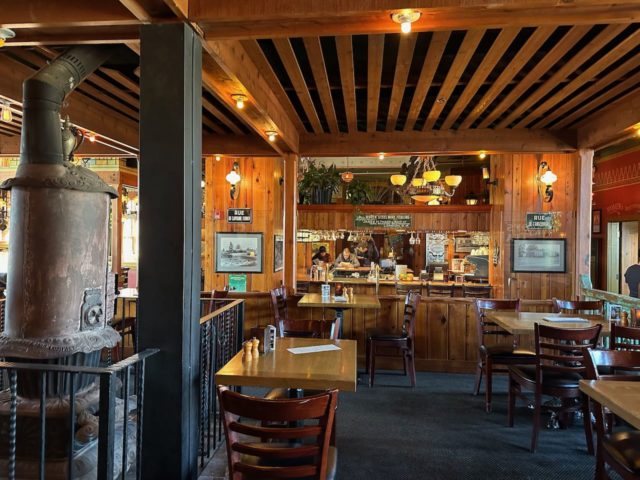 And that was just our first day in Bend with Tim and Amanda!