What do I call this place? The town is Watch Hill, but the anchorage is Napatree and I tend to use the names interchangeably. This was the final stop on our WD-70 Cruise. 😞😢 Don has wanted to go back to Napatree since his first visit there with us last year (Thirty-Nine Times Two). It would be the perfect final port for that reason and because it is close to Shennecossett. It is one of our little treasured places, too.
We rafted together again. It's unusual to be able to raft so often, but with the lower predicted winds for the next few days we felt safe, except for the wakes of crazy speeding boats passing by just at the edge of the anchorage. Geez! Out go the many fenders.
We were ready to chill and relax here at Napatree to just enjoy these last few days of our cruising time together. But you know guys and boats.  After lunch, Don and Al were deep in a discussion about Limerick's throttle issue. Don decided that with Al's assistance, he could rebuild the hydraulic throttle assembly. He had the parts and a partner to work with. What could go wrong? 🤔😬😳
The hydraulic throttle and housing was removed and carefully rebuilt on the dashboard with no problems. The throttle assembly was re-installed and the directions stated that under proper pressure the system could be bled of air and would function again. When they attempted to bleed the hydraulic fluid in the system, no fluid would flow. This meant there was a clog in the hydraulic system somewhere. A phone call to an expert provided enough guidance to trace where possible clogs might be. It turned out that behind a large nut was a stone-type filter that was totally clogged. Finding that unexpected clog now and clearing it solved the current problem and potential future issues. This "little" project that should have taken 45 minutes expanded into a FOUR HOUR agonizing and frustrating job. After the first two hours, I climbed over to Limerick's cockpit to ask Cindy what those two guys doing over there, reconstructing the entire boat? The look on her face told me that things were not progressing well at all. We, Cindy and I, decided to stay out of the way, therefore I have no photographs, interesting though they may have been.

"There is nothing–absolutely nothing–half so much worth doing as simply messing about in boats."


This is the 3rd time I have used this picture and quote from The Wind in the Willows.


Al and Don worked so hard on that throttle project, determined to find the problem and the solution. The triumphant and happy look on their faces said it all in the end.

The weather radar and the sky warned of passing rains, but they stayed off in the distance and spared us at Napatree. Not a drop fell. How lucky could we get to have no rain, but still get a rainbow over the anchorage? The rainbow appeared around the same time the throttle problem was solved and concluded. A sign of "job well done!"
The sky continued to display colors and drama as the sun set.
Here we were at Napatree on a beautiful Saturday so we braced ourselves for the crowds of boats and people.
Beach time!! We are going to get a good beach day!! Hooray!! It is finally summer.
After another great dinner on Limerick, we made an evening trip into Watch Hill for ice cream. Last port, last ice cream. St. Clair Annex is a small family run sandwich and ice cream shop, in Watch Hill since 1887. They make their own ice cream in small batches.
Could we have another great day? You bet! Sunday was a repeat and even a little better. We are in play mode now.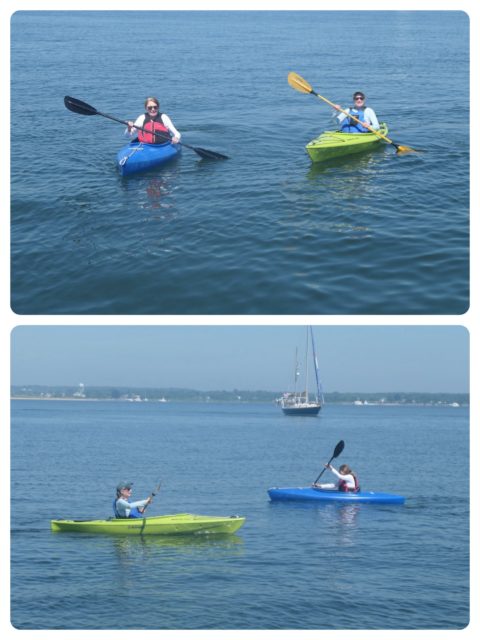 Al has a new toy, an SUP, Stand Up Paddleboard. Early in the trip, he found this board adrift, all alone, and towed it back to the boat. The water here was warm and calm enough to give it a try.  SUPs are sure popular and we see them everywhere. I suspect that it looks easier than it really is.
Our two gorgeous days in a row were followed by a rainy Monday. Al and I decided that for our last day of the cruise we needed a special treat after dinner. Watching the weather radar, we planned our dinghy trip around the showers.
With a day of rain ahead the guys decided on another project, this time on Kindred Spirit. The eternal optimists…..
For the last night of the cruise Cindy made her delicious Pasta Bolognese. She pampered Al and made it with spaghetti. I usually use any shape except spaghetti, much to his dismay.
Funny coincidence – I looked back at last June's blog post when we were all at Watch Hill together and saw that we chose the two of the same bakery confections, but instead of the Blueberry Cheesecake we selected five different macarons.
And then it was Tuesday, the 23rd day of the WD-70 Cruise and time to return to Shennecossett. A sky of low clouds soon morphed into a bright and sunny day.
Limerick took on diesel fuel and filled her water tanks for the return to Sea Cliff, while we nestled back in to our dock and started cleaning Kindred Spirit and packing up to head home to our dirt house.
We can't end the trip on those notes, can we? An impromptu cookout was quickly arranged bringing us full circle to the day we welcomed Don and Cindy to SYC to begin our cruising.
And so the WD-70 Extravaganza Cruise has come to a close. A fellowship that began in the oddest way (last year's blog post 39×2) and grew virtually for over a year and a half, has now become a treasured friendship. I think all four of us would say that our boating together adventure was a tremendous success. Before this cruise we had only spent about 4-5 days together in person. Our relatively young friendship survived and thrived through twenty-three days of togetherness.