Monhegan Island is a small rocky island (no surprise there if it is in Maine) that lies miles from the nearest mainland and is barely a square mile in area. Named from the Algonquin word for "out-to-sea island," it was first visited by European explorers in 1603. For many early voyagers coming across the Atlantic, Monhegan was the first sight of land.
The current year round population is about 69, after fluctuating between 90 and 133 until 1940, after which it has declined. Seasonal residents increase the number of people to 250 between June and September. Monhegan is said to be one of Maine's most unchanged and magical natural places. It is known for lobstering, tourism, and artists.
The cruising guides inform you that there is no safe place to anchor and no guest or rental moorings. Here we were in Boothbay where one of the daily Monhegan ferries sails from, so I booked us tickets on the Balmy Seas for Tuesday when the forecast was for a sunny pleasant day. Forecasts are wrong, often. Our time in Boothbay was consistently overcast, but off we went to Monhegan Island anyway.
We walked up the hill and into the "center" of town. Monhegan Island felt rustic and remote. A quote from an unnamed islander in the Maine Cruising Guide says it all – " What makes Monhegan different is that it's hard to get to and hard to live on, and anything that makes is easier is a step in the wrong direction."
The island is known for its12 miles of hiking trails through woods, rocky ledges, hills and flatter areas. Trying to find the path to the lighthouse, we accidentally took this wooded path.
The climb to the lighthouse was much steeper and not as smooth, understandably because lighthouses need to stand tall and be visible. Monhegan Light stands upon a 140-foot hill in the center of the island. Authorized in 1822, the light went into operation in 1824 and was automated in 1959. The present tower dates to 1850.
After our hike up to the lighthouse we returned to the "center" and walked in the opposite direction to find the Monhegan Brewery a family-owned business. Matt and Mary Weber, year-round residents of Monhegan Island, run the brewery from April to November. In the off-season, Matt is a lobsterman. We had packed a picnic lunch and cold beers would be perfect to wash it down. The brewery has a food truck but allows you to BYO your food.
We heard there was shipwreck in Lobster Cove, a hike past the brewery down to the shore. So we did.
We did see some amusing sights, or so I thought, as we walked around Monhegan Island.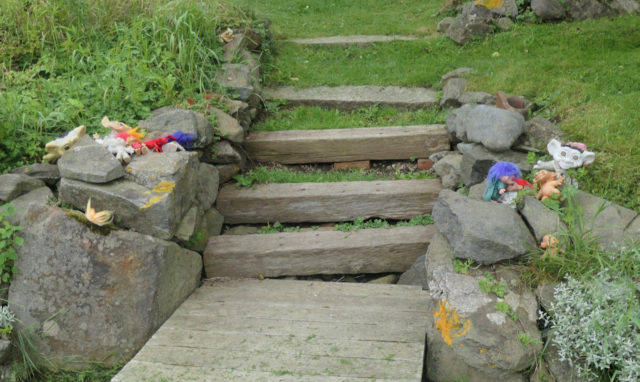 Monhegan is considered to be an artists' community and we did see many beautiful things, man-made and nature-made. inside galleries and just here and there.
And there were just different sights that caught our fancy.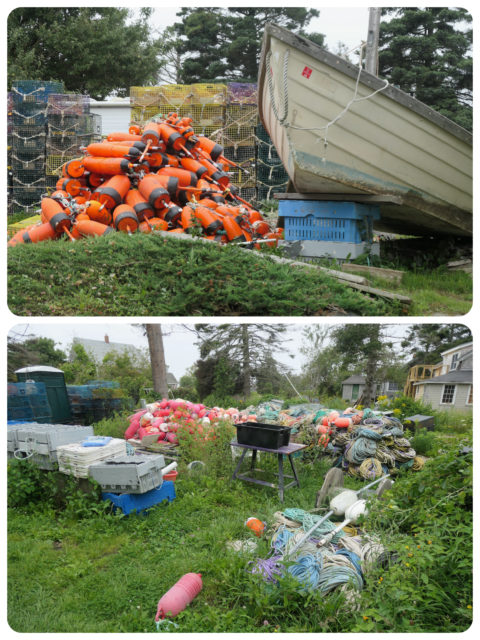 We both agreed that Monhegan Island reminds us of Cuttyhunk Island. Remote, rustic, weathered gray cedar shingles.
Wow, I had no idea this blog post would turn out to be so long. We are very glad we took the ferry out to Monhegan Island and spent the day there. It may have been cloudy and overcast, but the magic was still all around.