Our planned haul out date was in mid-October. We wanted to squeeze as much out of our delayed boating season as possible. But 2020 has been quite the year, and true to form, things did not go as expected.
We deliberately stayed away from the water over the Labor Day holiday weekend. Weekends are always more crowded, but this summer seemed to be even crazier on the weekends than in previous years. Not only were there more boats, the captains did not seem to be very experienced or were outright careless. As retirees, we can avoid the weekends (although this is really painful when the weather is beautiful.)
After Labor Day weekend we lazily headed over to Napatree again.
Dean and MJ were also here at Napatree. Dean dragged Al out in the dinghy for a little fishing as the sun retired for the day. Evidently fish can get more active around this time. Or is it when the current changes??
The next day was lovely. Just a simple relaxing day at anchor. Al worked on the boat while I worked on a weaving project.
We spotted Renaissance Woman, a Kadey Krogen Whaleback. Marianne and I had connected by email and phone through the Krogen grapevine (Kadey Ladies). She had once fractured her back and offered support and wisdom to help me through my recovery. We were both thrilled to physically be in the same place at the same time. Former Connecticut residents, they now live on Renaissance Woman and are traveling south.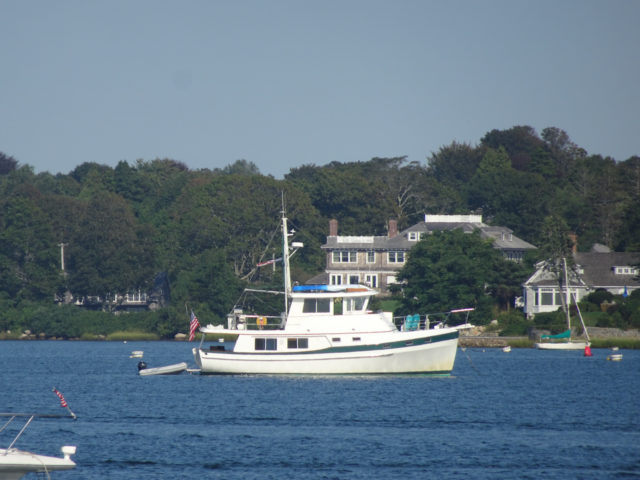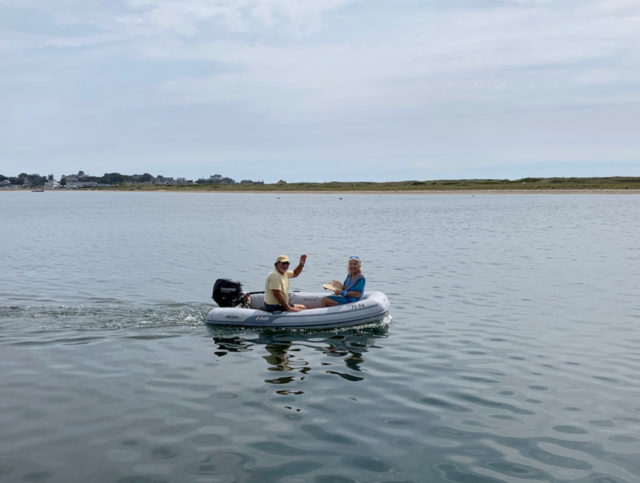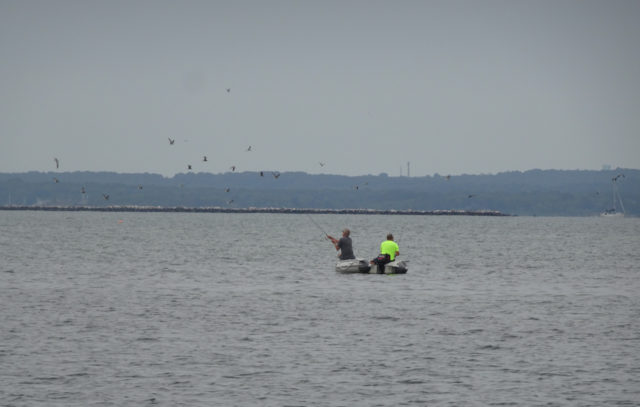 Interestingly (to me), Al has decided he wants to fish now. He likes Dean's approach – catch and release. Al has since spruced up and refurbished the fishing equipment that languished in storage at home. I think that's good. There may come a day when there are fewer and fewer boat projects and he will need something else to do! We all know that when he runs out of projects, he sells the current boat. And that ain't gonna happen this time!!!!
The weather changed overnight and I awoke to a thick and damp fog blanket. While enjoying my morning coffee and surveying the anchorage, I saw some movement.
After spending the weekend at home, back we went to SYC. The weather had turned chilly and windy so we reverted back to "dock potatoes" status. Hey, at least we were on the boat!
And that brings us to late September, still plenty of time for fall boating, right? We left SYC and scooted over to West Harbor on Fishers Island for a few days. On our way out, we stopped by our mooring in the outer Town of Groton field to pull it out for the winter. Al usually does it from the dinghy but he decided we could do it from the Kadey Krogen. It seemed to me that this could be tricky. How do you pull out a mooring that you are simultaneously secured to?? But hey, I went along with it. Al usually knows what he is doing. Or figures it out along the way.
After that chore, we traveled the four miles to West Harbor and chose to pick up a mooring instead of anchor. While on the bow securing the mooring line, Al noticed thinly spreading oil on the surface on the water near our bow. Uh oh…… 😳😬 the oil is coming from us. This is not good. Not good for the environment and not good for us because that should not be happening. Al surmised that it must be the bowthruster that is leaking oil. He immediately contacted Shennecossett to request an emergency haul-out the next morning.
We spent the night in West Harbor, obviously disappointed that our short season was going to be even shorter.
The obligatory haul-out photos to document the event…………
Sometimes you need a little levity during times of disappointment. Dean snapped this photo at just the right moment —-
Once Kindred Spirit was on the hard on her poppits in her winter location, it was time to climb up and begin the process of removing our belongings and things that don't fare well when stored aboard in the cold long months. I will be completely honest here. As I stood at the bottom of the ladder and looked down at the gravel and up at the transom, tears leaked from my eyes and I froze. This wasn't because the season was ending abruptly. I was having a moment of PTSD remembering the last time I was on Kindred Spirit, on the hard, only four months ago. I was fine out on the water but this brought back a flood of memories. A deep breath and Al's steadying hand on my shoulder helped me overcome it.
Life is full of unexpected twists and turns, sometimes good, sometimes not so good. That's just the way it is. Especially 2020. Our short season on Kindred Spirit was only 10 weeks. We were never more than 12 miles from our homeport and only put 20 hours on the engine. Of those 70 days, we spent 33 days aboard Kindred Spirit. Not too bad. I think those times actually helped me to recover from the spinal surgery by bringing a sense of normalcy to my life. We are looking forward to the 2021 season!