In New England, winter always interrupts the boating season. It's the rhythm of things here and we welcomed it this year. Yes, really! With our Kadey Krogen 39 home here in Connecticut, Al was ready and eager to spend his winter getting to know the boat and making his own improvements to her. I had visions of decorating since there was considerably more space and options for those touches.
In February we flew to Florida for a warm weather break (interruption) and enjoyed several stops there, beginning with a visit to Anthony and Annette on Magnolia in Palm Beach Gardens.
Next stop – Delray Beach for a few days at a boutique hotel called Cranes, an oasis tucked away in the midst of the city.
From Delray Beach we headed south to the Keys for a week's stay at Kona Kai on Key Largo, another little hotel tucked away from noise and crowds.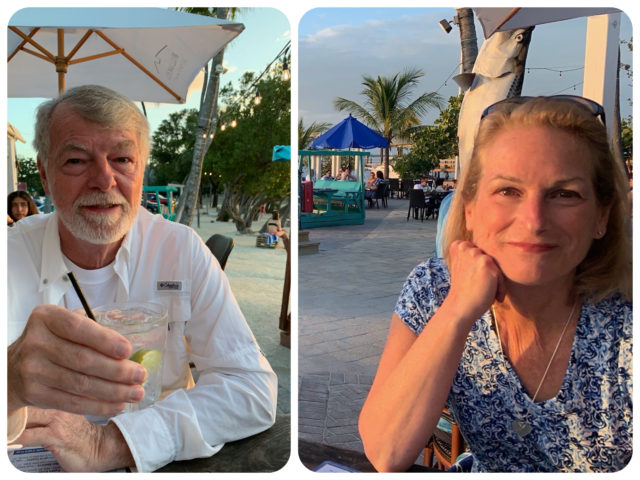 We returned home on February 19th and as I look back now, it seems odd that we were so unaware of what March would bring to all of our lives and how much the world would change. Social distancing, stay-at-home orders, frequent hand washing, hand sanitizer, face masks, and no where to go even if we had wanted to leave our homes.
Fortunately, Al's work on the Kadey Krogen could continue since it is largely a solitary endeavor. I started prepping a few blog posts about his winter boat projects, his "watsonizing" as we affectionately call them.
As launch day approached, we uncovered the boat together and began putting her back together.
And now for the third interruption of our lives. We had removed the Kadey Krogen's name from the transom and were finishing the prep work so that she could officially become Kindred Spirit. On May 3rd, I was sitting on a stool on the swim platform and working on the transom. The stool slipped and threw me 6 feet down to the ground onto my back. It is difficult to write about this, even now, so the short version is that my spine was fractured in two places, requiring two rods to hold it together. In many ways, I was lucky; it could have been worse. After 9 days at Yale including the surgery, I was sent to an acute rehab facility for 10 more days before returning home on May 22nd. Because of the corona virus, Al and I were apart for almost 3 weeks through this ordeal. That was truly challenging.
I still have a long recovery ahead of me, but I am doing well, all things considered. Kindred Spirit's launch date has been pushed back indefinitely until after the neurosurgeon checks my progress in a couple more weeks. One step at a time. I am determined to salvage some of this boating season and enjoy our lovely Kadey Krogen.
And I will eventually finish the posts about Al's watsonizing projects. I promise.