All four of us awoke on Sunday with a feeling of excitement in the air. We were going on a tour of Cañada de la Virgen pyramid and archaeological zone with Coyote Canyon Adventures about 25 kilometers west of San Miguel de Allende in the Laja River Valley. The morning was unusually cloudy and foggy as we walked to meet the van that would take ten of us out to the pyramids, about a 30-minute drive.
Alberto Aveleyra , our guide and an anthropolist as well, drove the van to the visitor's center, telling us about the site on the way. Cañada de la Virgen is an unusual archeological site, a public national site in the midst of private land. How did that happen? The story goes ——
In the 1990s, a German woman, descendant of steel producers during WWII, acquired an 18,000-acre ex-hacienda in the valley west of San Miguel. The story of Cañada de la Virgen's 1998 "discovery" is that a cowboy rode to the top of a "mound" to look for his cattle from a higher vantage point. His horse found solid footing as it stepped up this mound, which turned out to be the pyramid's stairs, buried under many feet of dirt and overgrown vegetation. The Mexican government then acquired the 40 acres that includes Cañada de la Virgen and official excavation began in 2002. Public access through the private property to the pyramids was negotiated and visitors began arriving in 2011. To accommodate this private/public arrangement, visitors ride a shuttle bus (aka van) from the visitors' center to a drop-off location near the site.
From the drop-off point, it is a 30-minute uphill walk along a road, of sorts, and then through a gate.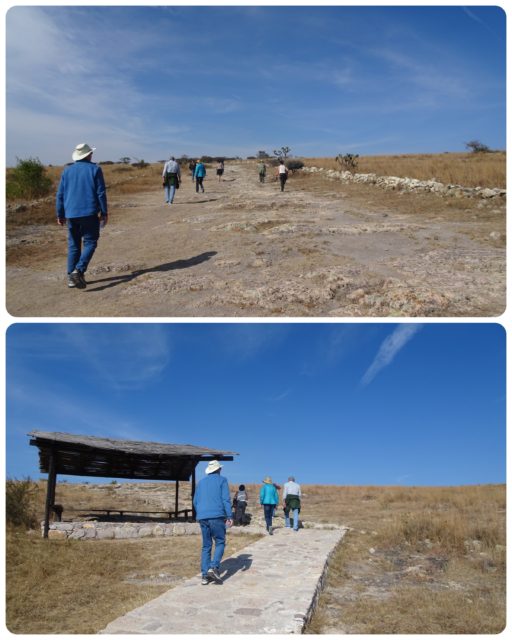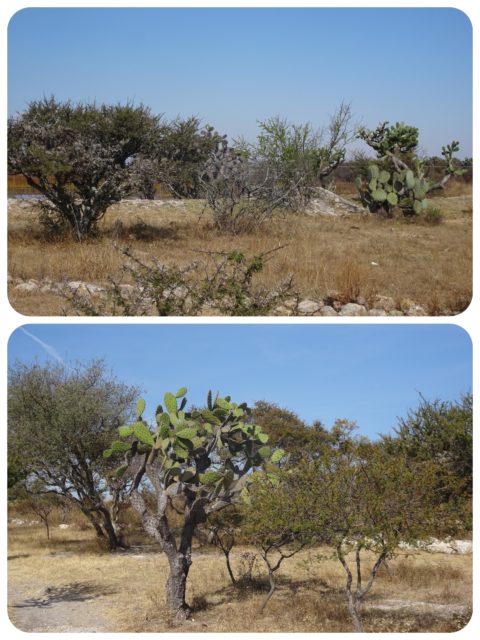 Cañada de la Virgen sits upon a small mesa ( a small plateau) surrounded by canyons. The site was built by the Otomí Indians and occupied between 540 and 1050 A.D. There are three main architectural complexes on the site as well as what has been determined to be ceremonial spaces, residences, and burial grounds.
Cañada de la Virgen is not as famous or grand as most of the Mayan and Aztec archeological sites in Latin America, but because of its unusual joint public/private ownership, it is much quieter and tranquil. The number of tours and visitors are limited to respect (or because of) the private ranch land that surrounds the site. Our little group of ten was nearly alone the entire time.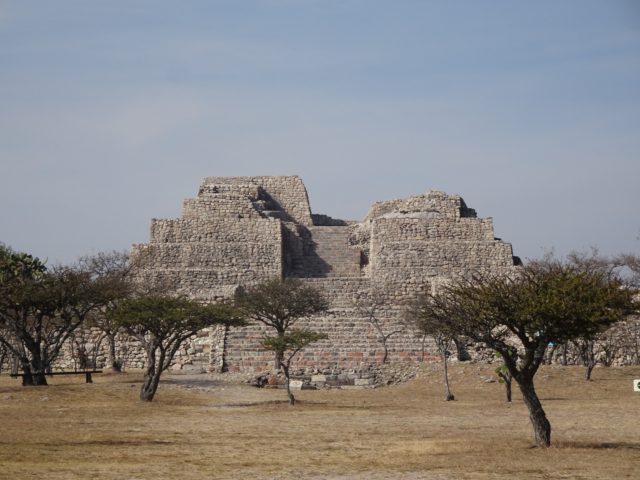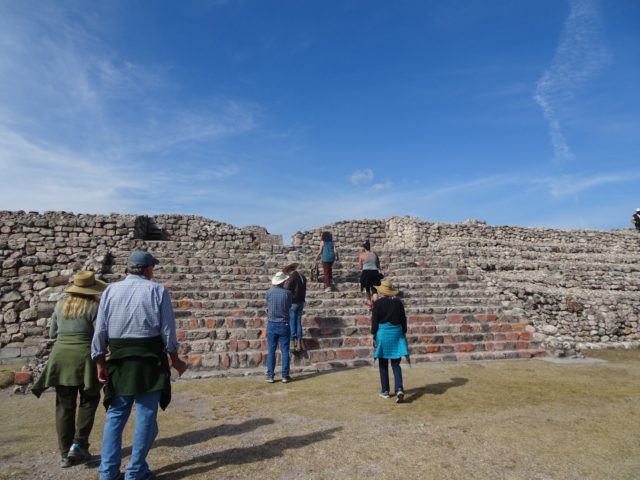 Standing at the top of those steps, we were actually standing on a wall that rims an inner flat area that may have been an arena or ceremonial place.
From the vantage point of the House of the Thirteen Heavens, it was possible to see the other structures —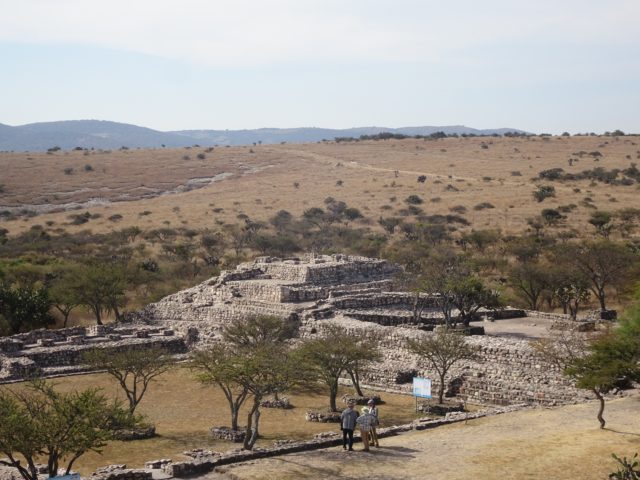 Albert was an excellent guide. He told us so much, but I have forgotten most of it by now. 🙁 The Otomi Indians were devoted sky watchers and used their astronomical knowledge to form their religious beliefs and govern their society, passing the information down through generations. The pyramid and structures are situated and designed to align with movements of the moon, and especially the sun's position on the equinoxes and solstices. For example, "the site faces the celestial north, where the stars spin around in a circle throughout the year. The moon moves up the stairs of the pyramid as its cycle advances. It rises and falls perfectly in pyramid notches at key times in the lunar calendar and during solstice periods it turns out that the planets are lined up as well." (Wikipedia)
The day was not over yet. We walked back down the path to meet the van and return to the visitors center.
From there we were treated to one of the bumpiest rides ever. The van drove us to a ranch for lunch, included with the tour.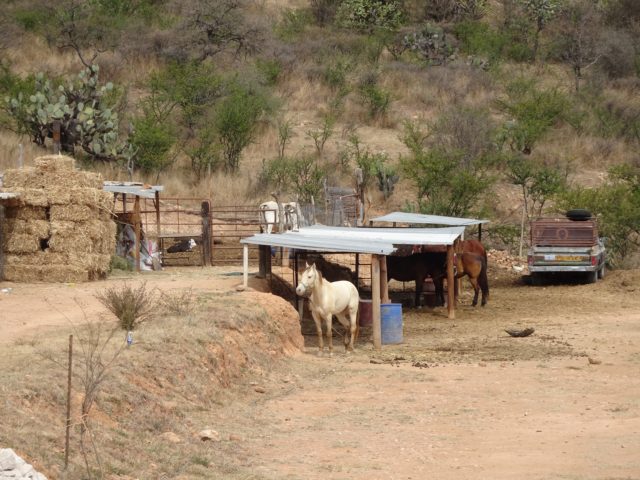 Our lunch was a "ranch style meal", consisting of fresh tortillas en el comal, rice, beans, scrambled eggs, fresh salsas, guacamole, and freshly made cheese, quesadillas, salad, and potatoes.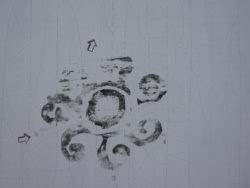 This symbol seemed to be important to Cañada de la Virgen, but I don't what it represented. I saw it on a map and a sign (and took a photo), but there was no explanation. Just thought it was an interesting design.
To walk around a place as old as Cañada de la Virgen was fascinating. To see grand structures that were built only by human hands and learn about an indigenous society with an advanced understanding and use of the interplay between agriculture, astronomy and architecture is remarkable. I have enormous respect for a society that was able to live in harmony with nature.