Our second full day in San Miguel leisurely began with coffee and Sam's homemade Mexican breakfast of eggs, rice and retired beans, with a local croissant.
(Funny update – My dear friend, Ems quickly wrote to comment on the above sentence: "You know me… I get tickled easily at auto-correct…...So I thought your Mexican breakfast was very appropriate since the two of you are not working any longer….. Those beans had worked LONG ENOUGH!!")

Ahh, yes, the word was supposed to be "refried" beans!! That d____ autocorrect sure is ticklish!
Al and I ventured out to explore the center of San Miguel on our own. It was a gentle downhill walk.
We stopped to spend time in El Jardin. El Jardin, pronounced "hardeen" translates as "the garden," an appropriate name for this central plaza. On the street map above, It is a small green rectangle in the center, and a relatively short walk from Casa Garza. Every town in Mexico, large and small, has a central square. It's where friends meet, where gossip gets passed around, where food and festivities abound, where everything happens. El Jardin is the heart of San Miguel.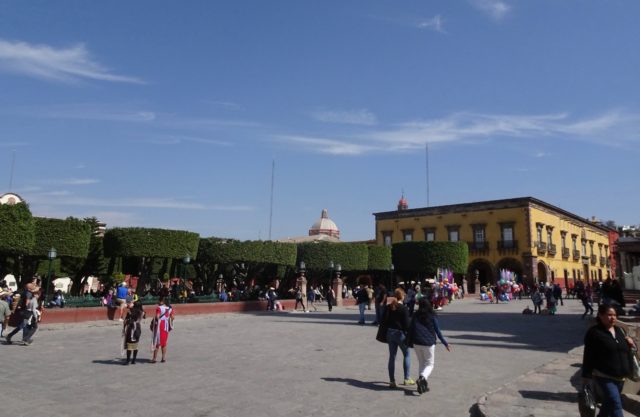 The garden part of El Jardin is surrounded and filled with laurel trees, all trimmed in this cylindrical design.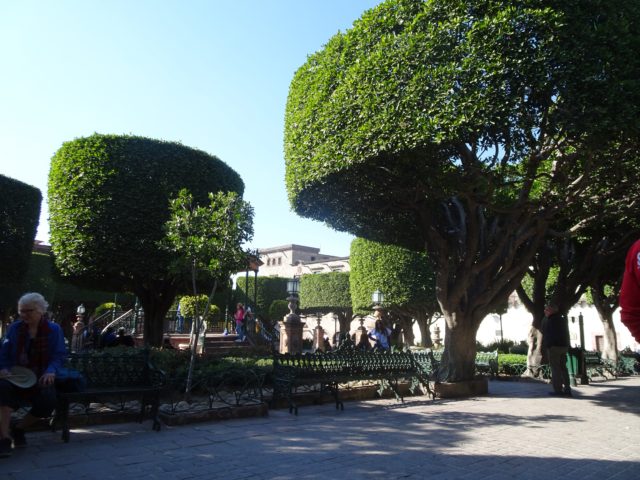 La Parroquia de San Miguel Arcángel, or just La Parroquia, "the parish church" stands at the edge of El Jardin and can be seen from most places in the city. One might say it is the symbol of San Miguel, similar to what Notre Dame Cathedral or the Eiffel Tower represents for Paris.
Church after church was built on the same spot during the 1600s beginning with a traditional Mexican look and then evolving with each successvie rebuild. Around 1880, Zeferino Gutierrez, a mestizo bricklayer and self-taught architect was hired to construct a new facade for the church. Inspired by European Gothic cathedrals, he communicated his "neo-gothic design ideas to the local craftsmen by drawing with a stick in the clay soil.
La Parroquia is one of the most photographed churches in Mexico. I certainly photographed it every time we strolled past it. The following photos are from different days.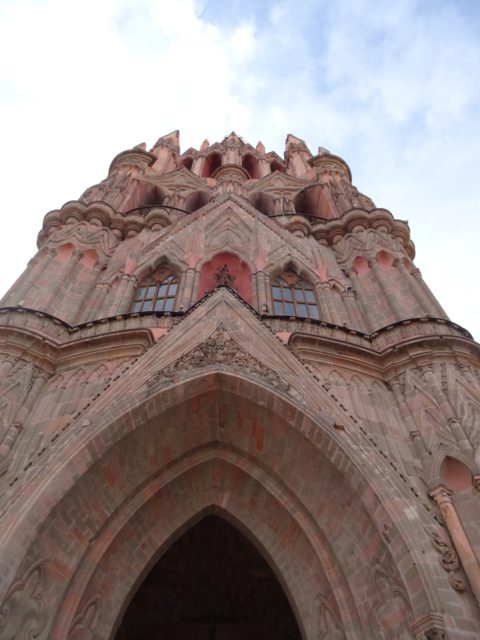 Milagros are small metal religious charms (often representing arms, legs, heads, animals, praying people) found in many areas of Latin America, especially Mexico and Peru.
The word "Milagro" means "miracle". A person will ask a favor of a saint and make a pilgrimage to the shrine of that saint. They pin the Milagros are to some object of devotion in the shrine, such as a saint, sometimes with a note of prayer or thanks, or a photo. If I could have found a Milagros in the shape of a leg I would have said a prayer and pinned it on a saint.
There is a wide street around the Jardin, where people walk, and vendors sell their wares. No vehicles. Some of the buildings surrounding the park have arched openings framing the shops and restaurants inside.
All around the Jardin and in the streets of San Miguel (as well as in tourist shops at the airport) one sees Mexican rag dolls, called "Marias." The women in the plaza are descendants of ancient Otomi Indians and hand stitch the rag dolls with with smiling faces, indigenous-like dress, and hair braided with ribbons. The Marias are considered Mexican folk art at its most authentic. I regret that I did not get one.
Surprise, surprise, we had to find helados (ice cream) for Al, he was feeling deprived. Fortunately, there was a Dolphy's, the Mexican ice cream chain right on the corner.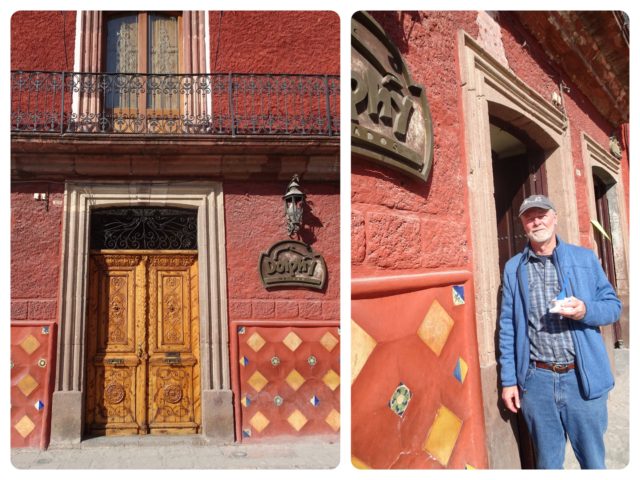 Reading the flavors of helados proved to be challenging for us gringoes, without Sam along. Al decided on a flavor called "chamoy" which I thought might be raspberry which he loves. Chamoy sounded similar to chambord, the raspberry liquor, right??? Wrong. 🙂 Al liked the taste, but noticed that although it was fruity, it wasn't raspberry, and it had a "kick" to it. Well, we had to find out what this flavor was. Chamoy is a fruity and savory hot sauce made from pickling fruits in a salt brine and adding chili powder. It is also used as a flavoring for frozen treats giving a unique flavor combination that is simultaneously sweet, salty, spicy, and cold. Mystery solved.
Later that afternoon we reunited with Sam and Kayda for an early rooftop dinner at El Pagaso, one of their favorite restaurants.
The day wasn't over yet! We went to the movies, but don't assume that was too ordinary to do while visiting a foreign country. "Pocket Movie" (yes, that is its name) is a tiny theater tucked behind the city walls.