We weren't the only boaters impacted by the threat of Hermine. For us, it was a fairly easy decision to cut the trip short and head home. For cruising friends who were far from their homeport, or who had no homeport, a tropical storm or hurricane can be much more than an inconvenience, large or small. Anthony and Annette on their Morgan 44, Magnolia, were in Onset, Massachusetts on the way south from Maine. During our weather consultations, we offered Shennecossett as a safe harbor for Magnolia to wait out the storm and our home for the crew.
There was a LOT of hyperbole from the weather gurus and lots of confusion about Hermine's track as it stalled and shifted repeatedly.
Everyone at Shennecossett prepared their boats for high winds and rains. Magnolia arrived and slipped into the dock next to us.
The four of us loaded up our car and headed for our house to have a "hurricane party." Everything possible had been done for the boats and we were ready to hunker down and wait it out, on land.
While we ate and drank and enjoyed visiting with dear friends, we also kept an eye on the weather forecasts. It's a necessary obsession for boaters, you just keep watching and listening. Sunday morning dawned, and ………….. wait a minute……….. the sun is shining……no rain….. no wind……? Let's check that forecast again. Hermine was one fickle storm. It was out there, but not as soon or nearly as close as predicted. New plans – let's take Anthony and Annette on a tour! Why not Gillette Castle on the Connecticut River.? Although we pass it by boat when we traverse north and south on the river, we haven't toured the castle itself in years and years (maybe an elementary school field trip?)
Gillette Castle was the home of William Gillette (1853-1937), actor, playwright,stage manager, who is best remembered for portraying Sherlock Holmes on stage and in a 1916 silent film. It is Gillette who transformed Sherlock's appearance into the universally recognizable deerstalker cap and curved pipe stem. He is also credited with the catchphrase "Oh this is elementary, my dear fellow," (which later morphed into "Elementary, my dear Watson").
Gillette named his castle, Seventh Sister, building it from local fieldstone supported on a steel frame over a five-year span (1914-19) by a crew of 20 men. Gillette designed the entire structure himself, including the 47 individually designed doors, with unusal doorknobs and puzzle locks.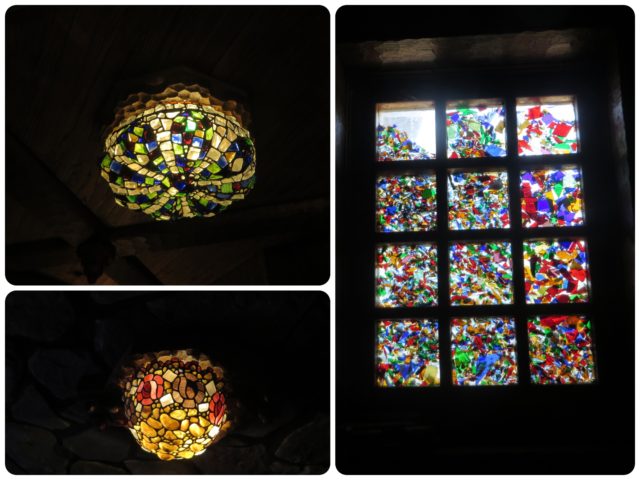 We enjoyed our tour and a picnic lunch on a beautiful Sunday afternoon. The water called to us and the river said come take a ride! So off we went to ride the Chester-Hadlyme ferry across the river, no bridges for us.
The hurricane party continued into the evening with a dinner at Amici's land home. Ted and Sally invited the four of us to enjoy their company and a delicious meal. on dirt or on the water, it's great camaraderie.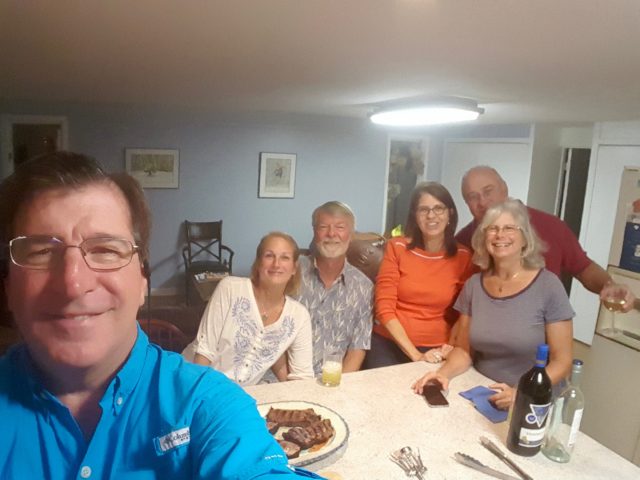 One last stop at West Marine for their bottom paint sale. Thinking ahead. Magnolia's bottom will be blue, Kindred Spirit's will be green. Don't mix the cans up, guys! Or… we could have matching striped bottoms???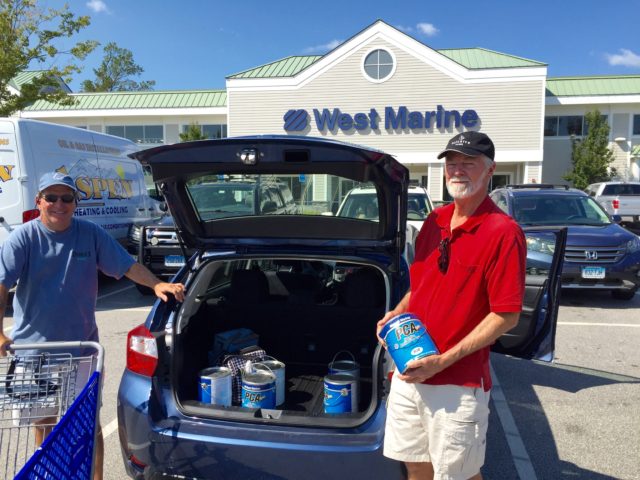 So what ever happened with Hermine?? The tropical storm did not impact us very much after all, here in Connecticut. That is a very good outcome. No regrets about taking precautions and being safe. If we had been out on the water, the conditions would have been uncomfortable at best and very likely risky. The best outcome for us was getting to spend time with Anthony and Annette before they continue southward. We sure are going to miss them this winter.