Each summer, for at least 8 years, we would take a three-week trip usually out to Martha's Vineyard and Nantucket. It's been four years since we have cruised out that way and we have missed it. New England has the best summer cruising grounds.
We got an early start, really early, around 5 am, and headed out to Block Island. Here it was, late August, and it was our first trip there of the season. Sunsets are beautiful, especially viewed from a boat, but early morning sun can be even better. There is something peaceful about the ocean with the day's sunshine lighting it. Everything feels new again.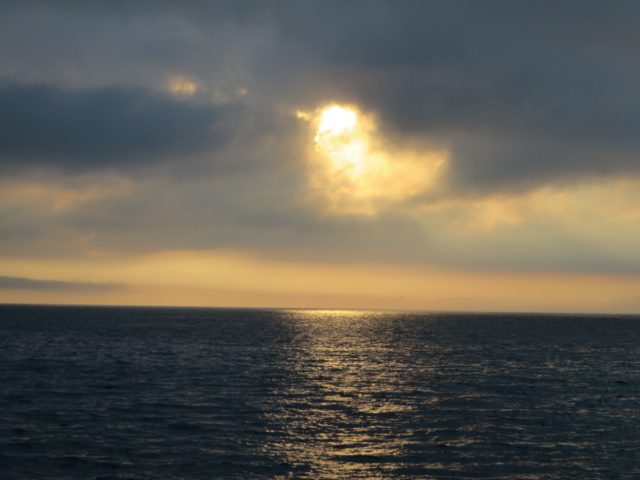 About 4 miles west of the island we saw splashing in the distance. Initially, it was unclear what was making the large white disturbance on the water, a powerboat wake? Noooo…….. Al realized it was a whale when he spied the spout. Slowly and carefully we made our way in that direction. At one point we were very close as the whale surfaced, giving us an amazing sight with our naked eyes. It all happened so quickly that there was only a slim chance of capturing the whale in a photo. Some moments are better to live in, rather than try to hold it still through a camera. A bit later, I tried a video, but the whale was farther away in the distance by then. Below is my 4 second clip of his/her tail. Wow.
We arrived at Block in time to join the evening happy hour of the Shennecossett Rendezvous. We enjoyed time with other club members and met some newer folks. No photos…….. I realized I was spending less time behind the lens and more time in the moment.
Block was much more crowded than I expected. My illusion of quiet harbors in late August was just that, and illusion…. delusion? Oh well, we hung around Block longer than originally planned anyway, just relaxing. Nothing extraordinary, nothing unusual, just simple enjoyment.
The five turbines of the Block Island Wind Farm, off the southeastern shore of BI are visible from Crescent Beach. This is the first offshore wind farm int he U.S.
From the projects' own website – "The first offshore wind farm in the United States, the 30 megawatt, 5 turbine Block Island Wind Farm is scheduled to be online in 2016. Soon, the Block Island Wind Farm will not only supply most of Block Island's power, but also reduce air pollution across southern New England for years to come."
From the Boston Globe (August 15, 2016) – "To some, they're engineering marvels, the ultimate solution to precarious energy prices and dangerous levels of carbon emissions. To others, they're expensive, blinking monstrosities that mar the pristine horizon and will prove a boondoggle for electricity customers."
Al and Dean went clamming so that we could pig out on clam dishes that evening.
If you are Block, you have to stop at The Oar, at least once.
After four days at Block, we headed east to Martha's Vineyard. Once past the northern tip of BI, we looked south and could just barely see the wind farm.