The next part of the journey homeward became a challenge thanks to the weather and sea conditions. We needed to go up the Chesapeake Bay, down the Delaware Bay, and then up the New Jersey coast. It will be a total of about 230 nautical miles, which will take 36 hours total of non-stop traveling time, and isn't going to happen even under perfect weather conditions. The driving distance would be 210 miles, not much different than over water, but would only take 3.5 hours!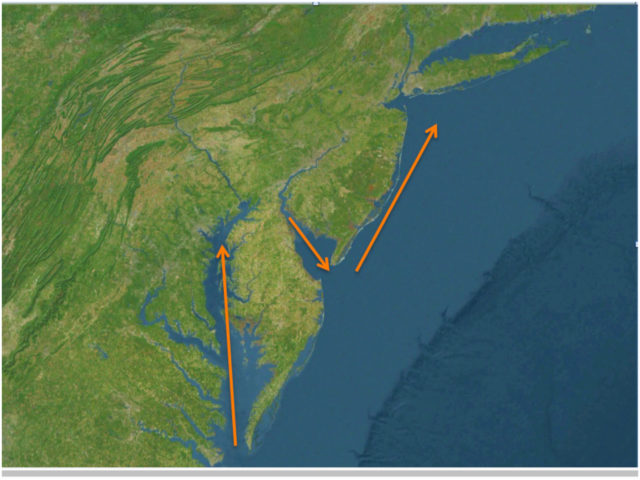 For these bodies of water, you need specific conditions, for wind and seas, currents, and weather. The weather pattern of Winter 2016 in the Bahamas has continued into Spring 2016 here on the east coast. The fronts are quick moving, with only short durations of good conditions for traveling by boat. Oh well. I am working very hard on accepting the reality that I cannot change or influence Mother Nature. Notice that I have not said that I have accepted it, just "working on it." 😉
Cutting Class and Kindred Spirit both left Portsmouth's free dock on April 21st to head across Hampton Roads to Hampton, Virginia. A two-hour hop.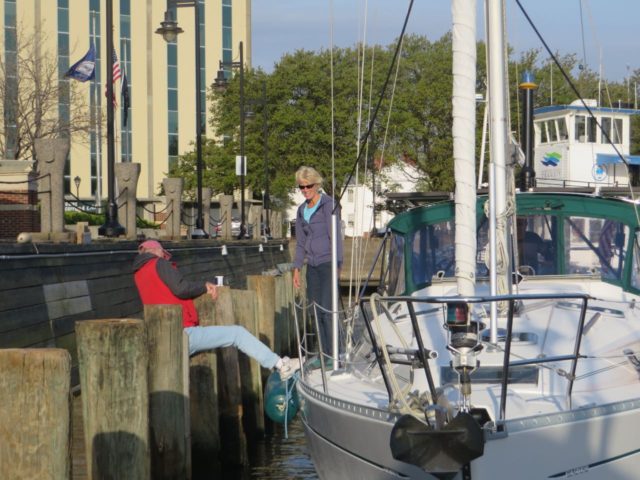 We only intended to spend one night in Hampton, but strong winds in the lower Chesapeake Bay and some rain kept us there for 3 days. Arriving in Hampton meant that we were completely finished with the Intracoastal Waterway now. Hampton is designated as ICW Mile Marker –11.2 . Yes, that is an intentional negative number. I find that funny. Portsmouth is really where it begins, at zero.
There's not much to say about our stay in Hampton this time. Sunset Creek Boating Center is convenient, reasonably priced, and friendly, but not scenic, and not quiet. The lifts were busy plopping boats in the water right next to our slip. Interesting, but not quiet. Down the creek a bit, there was a barge being loaded with crushed stone. Lots of stone, It can not be said that we have not experienced a variety of marinas and anchorages. We did use our bikes for a grocery shopping and an ice cream run into Hampton. Alas, the little ice cream shop has left. The Crouch clan invited us to join them for lunch at the SurfRider and we had crab cakes that definitely made up for missing the ice cream (Yes, Al, honey, it does!)
Hampton to Mill Creek – 54 nm, 7.5 hours
We left Hampton on Sunday morning with hopes that the predicted change in winds would make the trip to Mill Creek, Reedville, VA, comfortable. We had strong north winds and 4 foot seas until 2:00 pm, then the sea calmed and the wind finally lessened and turned south. We anchored just inside for an easier start the next day. Much to our surprise, it was not such a peaceful night!! We were rocking and rolling.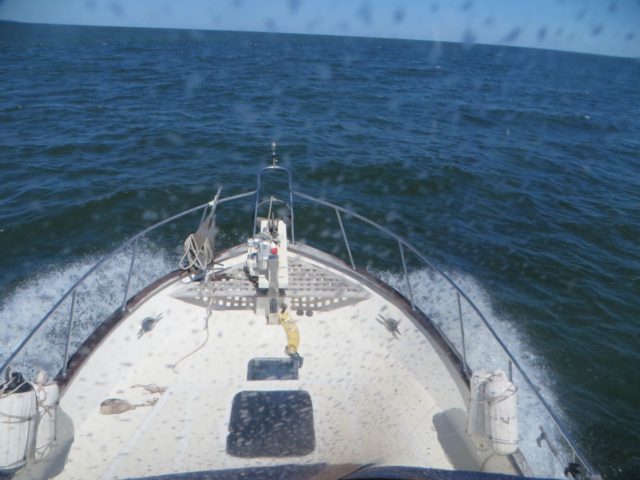 Mill Creek to Annapolis, MD – 75 nm, 10.5 hours
If we can only stop in one place on the Chesapeake Bay, it has to be in Annapolis to visit with our special cruising friends, Mary Marie and Frank. They bought a lovely home with a dock for their boat, Eleanor Q, and welcome all of their cruising friends to stop by when traveling through the bay.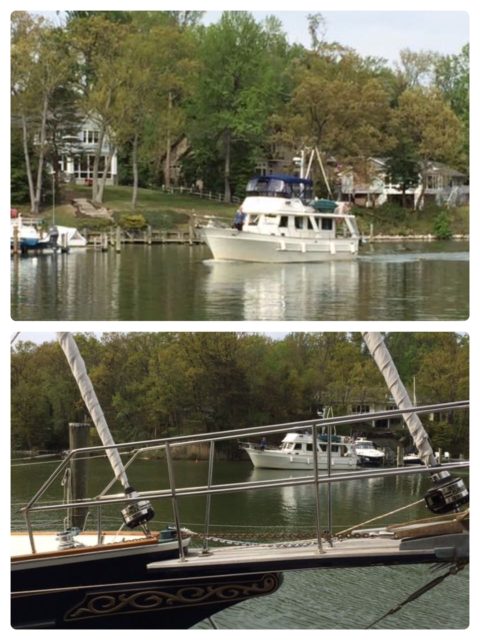 We did not intend to stay long, but the weather "convinced" us that another day here with Mary Marie and Frank would not impact our pace going home.
It really is possible to pack a heap of fun into a short time. This stopover was meant to be, on this date — Frank was home on a Tuesday following a business trip. How lucky can we get??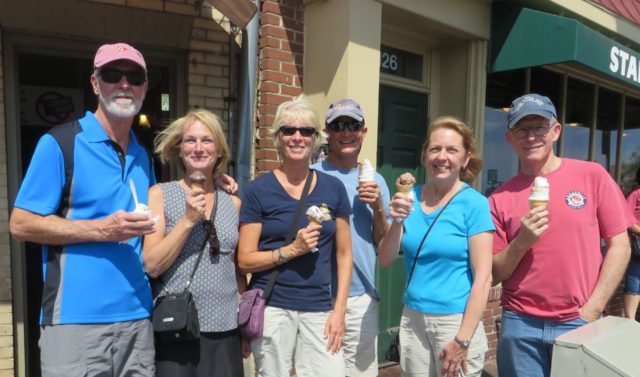 I was intrigued by the Eastport Yacht Club's burgee. I studied the cocktail napkin, trying to figure out the meaning of the design. On the napkin, it looked like a bird's tail, to me. I'm glad my curiosity prompted me to ask Frank and Mary Marie. The burgee's design is a graphic representation of the Compromise Street Bridge, a drawbridge, that crosses over Spa Creek in Annapolis.
We returned to downtown Annapolis the next day for another walk around. Such a great place that I hope we can spend more time here again in the future.
Our first experience at Chick and Ruth's Delly last September (Chesapeakin') turned us into fans which meant that we were not going to miss an opportunity to eat there while in Annapolis.
It was time for us to leave the next day to finish our trip up the Chesapeake Bay. Both boats delayed departure long enough in the morning to catch Frank's daughter, Nicole, on the Today Show with Matt Lauer. Coley was a Next Food Network Star finalist in 2014. We cruisers, family, and friends all avidly watched and cheered her on. It seems serendipitous that we could watch and cheer for her again as we finish another season of cruising. Nicole has a terrific website, Coley Cooks and a YouTube channel with fun and informative videos ( love the "no fail kale chips" and the salted caramel videos.) Once I am back home in my land kitchen I will be checking out and trying more of her recipes.
Off we go on another cold and dreary morning. Sad to say goodbye to friends, but eager to be underway and heading homeward.