The Rage is a classic Bahamian workboat that doesn't "work" so to speak, but rather, races in the time-honored tradition of Bahamian workboat regattas.
For background about these workboat regattas, The Rage's own website has a nice description which I have included here —
Workboat Regattas – A Bahamian 'Ting!
"Regattas, the great unofficial national sport of the Bahamas, got their start in the 1950's when skippers and owners of local fishing boats (sloops or "smack boats") got together at various times and inevitably bragged about the speed of their boats and the skills of their crew (and themselves!). The boasting and bragging led to competitions to see who really could claim "braggin' rights" and not just who had the loudest voice or most vivid imagination. And one 'ting led to another 'ting, and lo and behold, official regattas and the one true Bahamian sport were born and "off to the races" so to speak.
Bahamian regattas are a competition between traditional wooden work boats from the major islands of the Bahamas which helps to preserve a way of life from a time when such boats were the glue that held this country of far-flung islands with their disparate populations together, both in terms of fishing as a livelihood and communication and freight transportation between islands."
Strict rules govern the Bahamian Class A work boat regattas:
Competing boats must be designed, built, owned, skippered and crewed by Bahamians.
Overall length must be 28 feet, three inches or less.
Sails must be canvas with a single mast.
Hull and mast must be wood.
No vertical transoms.
No bowsprits.
No spreaders or aluminum spars.
No winches.
No wind or speed instruments or tell-tales.
No bending masts.
If a crew member falls off, he must be picked up. The boat must finish with the same number of people that started.
The Rage no longer competes in the official Bahamian regattas, but does race here in the Abacos, quite often in the Hope Town Sailing Club's races. She has been mentioned in two previous blog posts this year when we have been involved in a race.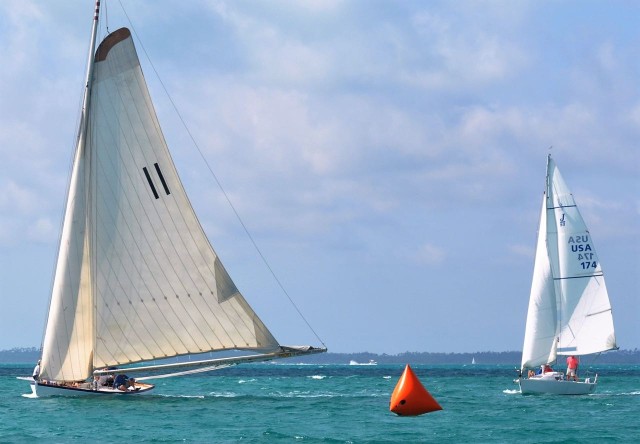 Last week, the Hope Town Cup, a 2-day race series, was held, and…………Al was asked if he wanted to crew on The Rage on the second day. Yes, yes, and yes!! What an opportunity!!
A little bit more about The Rage (from her website AbacoRage) and other sources):
Abaco Rage Statistics:
LOA: 28′
Beam: 10′ 4″
Draft: 6′ – 6′ 6″
Mast: 65′ (61′ 11′ over deck)
Boom: 38′ long and 6×8″ tall
Crew: 10-20 people depending on wind
The Rage's History:
Class A sloop, built in 1980 on Man O' War Cay.
Won the Out Island Regatta in Exuma in 1983 and 1984.
Placed second overall in 1990, and was then retired.
Rescued by a consortium of new owners from Hope Town who acquired The Rage in October 1997. "Fundraisers were held. Repairs were made. Materials were scrounged."
Won the Class A championship in the very first All Abaco Regatta in April 1998 with Jeff Gale as tactician and Christopher Lightbourn at the helm, and a crew of 12 from Elbow Cay.
Won 3 out of the four Class A championships between 1998 and 2002.
Abaco Rage Sailing Syndicate (A.R.S.S.) was formed to support on-going efforts to keep the Rage in sailing shape and competitive trim, raising funds needed for on-going maintenance and repairs plus new sails and other gear.
Wooden boats require a lot of loving care to restore and maintain.
Now to the races! The Rage was DQ'ed at the start of the first day's race. 🙁 She crossed the starting line before the horn. Given the combination of her structure, maneuverability, and the strong force of the winds that day (over 20 knots), Skipper Dave Pahl decided it would not be worth it to tack around and go through the starting line again as required by race rules. So they raced for fun and experience. This meant that the 2nd day's race would also be just for fun. Think about this – The Rage is an older wooden boat (refer to her stats above) competing with modern fiberglass boats.
Because The Rage does not have an engine, her crew gets picked up and taken to her. Although I didn't get to go out to the race, I tried to take some photos from our flybridge while they were still in the harbor.
The racing photos are from Will Heyer. Thank you, Will! Again – so glad Al wore that blue shirt.
I asked Al what it was like out there. He told me, "It was a great, one-of-a-kind, exhilarating experience – racing on the edge, literally. The prys planks are such a totally different design than modern sailboats. The crew has to scoot from port to starboard on the planks as we tacked so that the long boom wouldn't drag in the water." Al also added that Dave Pahl was an excellent skipper – no yelling and very encouraging.
If you are intrigued by The Rage, here are links to two excellent and descriptive articles about the story of her origin and her resurrection —