It takes us older folks more days to say good by to one year and ring in a new year, so we began on December 30th.
Crazy night people that we are, we began the 2015 Farewell/ 2016 Welcome that evening with a benefit concert, "Giving Rhythm", that was held outdoors at the Hope Town Harbor Lodge, and began at 6:00 pm. Tickets were reasonable and for the benefit of Every Child Counts in Marsh Harbor.
Lynn and Truman Major adopted twin boys at the age of 3 1/2 years, and soon discovered that they had severe developmental delays and would require special education. With no school that could meet these needs on Abaco, the Majors, with other parents, founded Every Child Counts, "a school for special children, making a difference one by one."
I am going to be totally honest here. When I read the poster for "Giving Rhythm", I recognized one name – Red Hot Chili Peppers, a band that my sons liked back in their teens. And that's all I knew. I wrote to both boys to tell them about the concert, and they wrote back, "Will Farrell or Chad Smith???" I was completely confused until they patiently explained to me that Chad Smith, the Red Hot Chili Peppers' drummer, strongly resembles the comedian Will Farrell (I do know who he is.) The boys told me to check out the Will Farrell and Chad Smith "Drum Off" from the Jimmy Fallon Show (on YouTube.) I did, even with the limited internet – funny!
Dan Bailey Tribe was the featured band with Chad Smith as the guest drummer. Bailey was born and raised in Montauk, the far end of Long Island, near our home waters. His music is a mix of soul funk, reggae rhythms and drums, "inspired by the wanderlust of an endless summer."
The concert drew a huge crowd (I had no idea there were this many people on Elbow Cay, although I suspect that most were holiday visitors and that many came by boat from other islands.) Although I only recognized one number, the music was good. Charlotte and I worked our way close enough to the band so that I could try and take a few photos.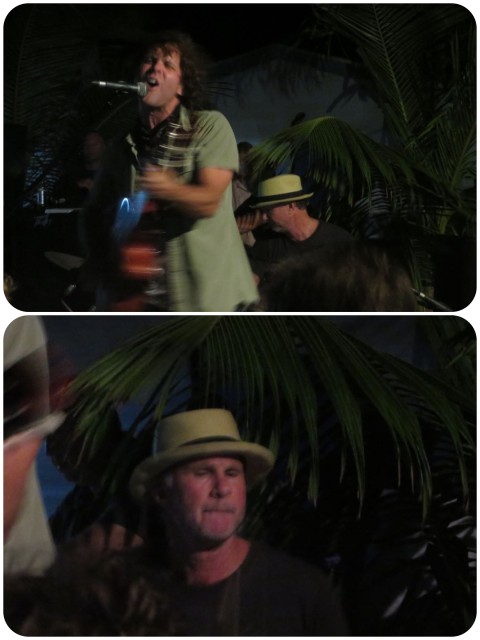 New Year's Eve Day had a special treat in store for me. Before resigning myself to a 3-6 month wait to have a functioning MacBook again, I half-heartedly decided to call Apple Support and see what advice they could impart, but not expecting that there was anything that could be done from afar. The Hope Town Inn and Marina is very generous with their phone and allowed me to make the call to Apple in the states. (We don't have any phone at all while we are here in the Bahamas.) Once I maneuvered my way through the voice questions and commands, I was connected to a real person, an "Advisor," named Shemeka. I explained my situation and my location, none of which appeared to concern or stump her. Short version of the story: After 30 minutes, my Mac Attack was over and this MacBook Pro was alive and and functioning again!! Happy New Year!! Hallelujah! Praise Be! I was so happy I was close to tears. When Shemeka asked me if I was satisfied, I could only say "that would be a gross understatement." What did she have me do?? A series of keystrokes, holding certain ones for specified number of seconds, with dialog boxes appearing and all kinds of techno stuff. She did send me a link with what we did. That's a good thing because I sure don't remember it all. When I asked what was wrong with the Mac, she said she had no idea, but I think she is a genius!
As if that weren't enough excitement for one day, the Hope Town Primary School's Junior Junkanoo was that afternoon. Junkanoo is a street parade with music, dance, and costumes in many towns across the Bahamas every Boxing Day (December 26th) and New Year's Day. Although this certainly wasn't the biggest or fanciest Junkanoo in the islands, it's special because it is all children, all from right here.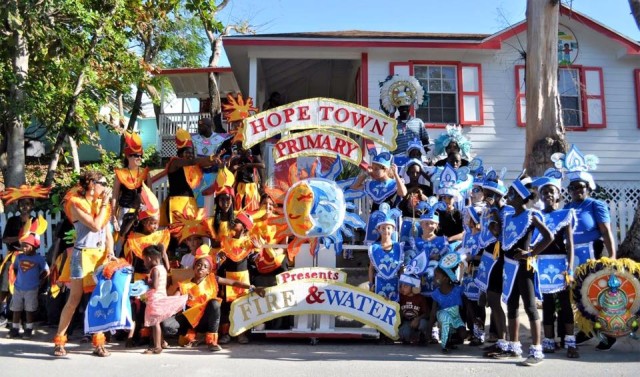 A little nap and we were ready for another fine dinner – lobster tacos. Al's two lobsters and one of Dan's combined to make a delicious New Year's Eve dinner for the four of us.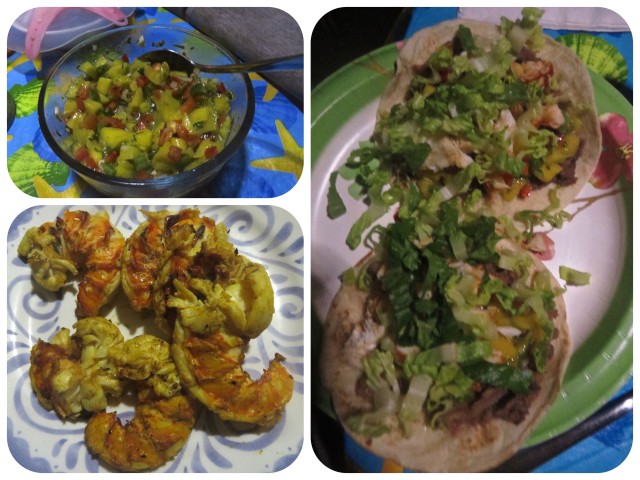 Because we have to pace ourselves with all of these activities, we were in bed by 9 pm. But wait, don't laugh yet. The alarm was set for 11:45 pm so that we would be sure to wake up and see the fireworks at midnight (I imagine we wouldn't have been able to slept through it.) We watched the show from the flybridge. Not bad for a little island. Not bad at all.
Happy New Year! Hard to believe it is now 2016. We started the new year off with a day of snorkeling in the morning. In the afternoon, Al, Dan, and Magnus went out to hunt for lobsters while Marcia, Charlotte, and I hung out at the pool. I'm saving the snorkeling and lobstering for another post.
On my mother's side of the family, the New Year's Day tradition is pork and sauerkraut, with mashed potatoes. My Pop-Pop (my mother's father) taught us that many years ago. The tradition is German, in origin, where pork is a sign of well-being, nourishment, progression, and good luck. Sauerkraut is seen as a sign of longevity, wealth and happiness. We were all so indoctrinated that the thought of not eating this meal on January 1st is inconceivable, so we cook and eat pork and sauerkraut, including my sons, no matter where we might be. Even in the Bahamas.
The New Year is filled with celebrations, parties, and feasting. On a different note, here's a thought for another new year ~~ "Year's end is neither an end nor a beginning but a going on, with all the wisdom that experience can instill in us". ~ Hal Borland