We have had a week of pretty darn good weather, if you like it warm and sunny, a little humid, with a dash of thunderstorms thrown in, just to keep you off balance. The week began on Sunday morning with on and off torrential rains for a brief time. The best part of this was the rainbows (yes, note the plural) that would follow each downpour. Not a bad way to begin the week!
We ventured out to Johnny's Cay at a low tide. It was too windy with surf a bit higher than we like for snorkeling but it was a great ride.
The next day took us back to "Church Beach" on the Atlantic side. Too much surf for swimming and NO sea glass this time! It was worth the trip just to watch the impressive surf on the rocky edge.
Another day saw a return trip out near Johnny's Cay with Magnus and Charlotte (Swede Dreams). We saw a pair of dolphins on our way out. Even better in the clear water. It wa since enough to snorkel around small reef out there.
The next agenda item was a dinghy ride south to Tahiti Beach, one of the nicest little spots around here. We each took our dinghies (Swede Dreams and us) and packed a picnic lunch.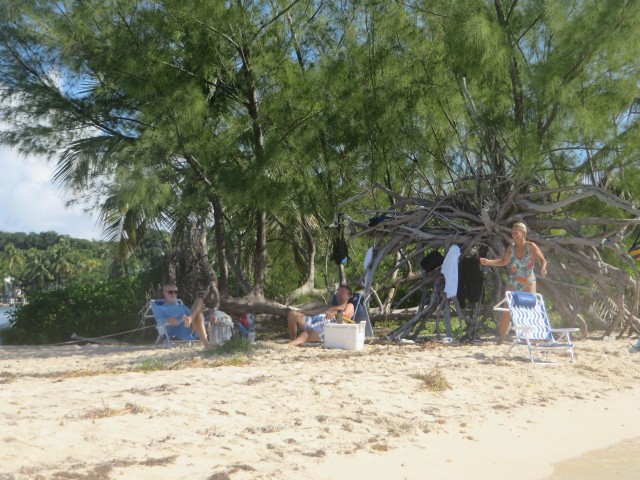 Snorkeling and hiking, let the pictures tell the rest of the story —
A little kayaking outside the harbor on another day.
We finally feel like we are in the Bahamas, playing in the sun, sand, and surf. Not a bad place to spend some of our retirement, is it?